12 Yard Enclosed Skip For Hire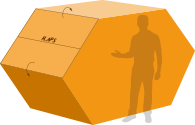 This type of skip is more commonly used for long term contracts such as Trade placement. The skip is also lockable, which ensures that waste remains secure for the duration of the hire.
Please Note: This skip requires good site access or permit for highway. 
---
12 Yard Skip Hire in Stoke on Trent
If you would like to hire our 12 yard skip, contact us today. We offer professional, reliable and efficient skip hire throughout Stoke on Trent, Staffordshire & South Cheshire. To find out more about our skip hire, or to discuss skip hire with one of our experts, give us a call on 01782 551 222. Alternatively, you can use our online booking form to get an immediate quote.
---
Why Choose A Lockable Skip?
Lockable skips help you to keep your waste secure and stop skips from being filled with unwanted waste during your hire period. Lockable, lidded skips:
Keep waste safe and protected from the elements
Prevent theft
Secure waste & stop the addition of undesirable and unwanted items being added
Enclosed skips with lockable elements also support in protecting those on-site and the general public from harm. Strong winds and other inclement weather could cause waste materials to enter the air, which could be dangerous for individuals in the surrounding area. A lockable skips keeps your waste in one place while promoting the safety of those around you.
What size skip is right for you?
Getting the right size of skip is important. Not only does it prevent you from running out of room (and having to hire another skip), getting the right sized skip will save you money, too. To help you, we created the below video which showcases all of our skips for hire.
Benefits Of Skip Hire 
Hiring a skip for your commercial or domestic projects has many benefits.
Responsible Disposal 
Fly-tipping is a common and unsightly problem that is damaging to the environment. Similarly, burning waste can be harmful to both people and wildlife due to the risk of toxic fumes, dust and other debris entering the air. With skip hire from DP Skips, you can rest safe in the knowledge that your waste is being disposed of in a responsible and Eco-friendly way. In fact, 90% of the waste that we bring into our facility is recycled and re-purposed.
Reliable Service 
For both big and small projects, waste can accumulate at an unprecedented rate. For commercial projects, making runs back and forth to the tip is neither practical or safe. Similarly, in domestic projects, large amounts of waste can pose a danger to family members and the public. That being said, in hiring a skip you will have a safe, and secure, location for waste and know exactly when it will be removed from your property or site.
Money Saving
Getting the right sized skip can save you valuable time and money. For many projects, transporting waste back and forth to the tip is not viable or practical. With a skip, you can focus on the task at hand, knowing that your waste will be collected and disposed of in the right way.
Hire A Skip