16 Yard Skip Hire in Stoke on Trent
The 16 cubic yard Enclosed (and lockable) skip ensures the safety of your waste throughout the duration of hire. Designed to stop waste from being tampered with, or added too, this spacious design is secure and affordable. Most commonly, this type of enclosed skip is used for long term contracts, such as trade placements. However, it is suitable for domestic projects, too.
Please note there is a surcharge for the disposal of carpet and plasterboard. This will be calculated at checkout.
Please note: This skip requires good site access or permit for highway.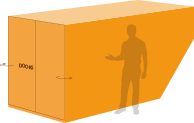 ---
16 Yard Enclosed Skip Hire in Stoke on Trent
To find out more about our 16 cubic yard enclosed skips for hire in Stoke on Trent, please get in touch with us. Alternatively, you can book directly through our online booking system or get an instant quote here. If you would like to speak to a member of our team about skip hire in Stoke on Trent, Staffordshire or South Cheshire then give us a call on 01782 551 222.
---
The Benefits Of A Lockable Skip
Skips with lockable lids are an effective way to secure your waste. Enclosed skips prevent:
Unauthorised access from fly-tippers or people who may try and get rid of materials/waste that may be hazardous or inappropriate
Theft of items from within the skip when it's left overnight
Overflowing of waste, debris or hazardous materials
Hiring an enclosed skip will also ensure that no waste, debris or hazardous materials become dislodged in inclement weather, which could cause a hazard to those working on site, or even members of the public.
An enclosed skip gives you the peace of mind to plan your project no matter how big or small, and bring peace of mind when it comes to securing your site and those around it.
Finding The Right Size Skip
Getting the right size of skip is important. Not only does it prevent you from running out of room (and having to hire another skip), getting the right sized skip will save you money, too. To help you, we created the below video which showcases all of our skips for hire.
The Benefits Of Skip Hire in Stoke on Trent
As a local based, family-run business, we pride ourselves on offering the very best skip hire in Stoke on Trent for both commercial and domestic projects.
Short & Long Term Skip Hire 
Our skips are available for both short and long term hire for the most flexible service possible. So, no matter how big or small your project is you can enjoy reliable, affordable and friendly service for the duration from our professional team.
Skip Hire Permits 
If you plan to put your skip on a public highway, it is necessary to get a permit from the council to do so. At DP Skip Hire, we can help you to get the right permit from the appropriate council body to ensure you don't fall foul of the regulations.
Next Day Delivery 
Need skip hire in Stoke on Trent in a hurry? We can help! For many skip sizes, we can accommodate next day delivery (and in some cases same day delivery), so you can get to work as soon as possible.
To book your skip online today, fill in our online booking form for an instant quote. Or, if you require a skip for longer than two weeks, please give us a call on 01782 551222.
Hire A Skip