Hire 8 Yard Builder's Skip With Drop Door From £230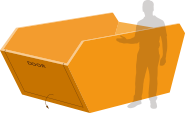 Our 8 yard builder's skip is ideal for common building materials such as rubble, soil, inert materials, hardcore, construction and household waste. Typically, our customers use this kind of skip for medium to large projects in either domestic or commercial properties.
Sturdy and reliable, the 8 yard skip with drop door has enough capacity to take on big projects with large volumes of waste material. The drop-down door also offers walk-in wheelbarrow access for heavier items, hardcore, soil and building waste.
Please note there is a surcharge for the disposal of carpet and plasterboard. This will be calculated at checkout.
Skip Dimensions:
Height: 4'1ft – Length: 9'8ft – Width: 6'0ft
Skip Capacity:
Our 8 yard skip with drop door can hold approximately 80 bin bags.
What Skip Size Do I Need?
Choosing the wrong skip can be costly. If you hire a skip that is too small, you could end up having to hire another to cover your waste disposal requirements. Or, on the other hand, you may end up paying too much for a skip that is too big.
To help you avoid this, we created a helpful video showcasing all of our skips for hire in Stoke on Trent. If you would like further help in deciding on the right skip size, give us a call today on 01782 551 222 – our team would be more than happy to help!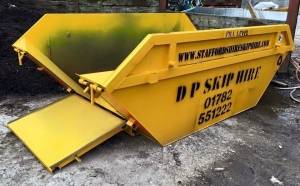 Why hire a skip with a drop door?
If you are undertaking a project that will result in a substantial amount of heavy or abnormally shaped waste, such as a bathroom renovation, then hiring our 8 yard skip with drop door is the ideal choice.
The name describes exactly what this type of skip does. Instead of throwing your waste into the skip from above, you can easily and safely transport it (on a wheelbarrow, for example) up the ramp and directly into the skip itself.
This is particularly useful if you do not have suitable equipment to help you lift heavy waste into a skip and is great if you're repeatedly moving back and forth to the skip.
---
Hire 8 Yard Builders Skips From DP Skip Hire in Stoke on Trent
The 8 yard builder's skip with drop door is one of our most popular skips for hire in Stoke on Trent, Staffordshire, and Cheshire. This is because it is large enough to take on most commercial jobs, and provides easy access through the drop door. To enquire about our drop-door skips, give our team a call on 01782 551 222. Alternatively, if you'd like to go ahead and book today, you can do so quickly and easily through our online booking form.
---
Environmentally Friendly Waste Management Solutions in Stoke on Trent 
At DP Skip Hire Ltd, we take our responsibility to the environment very seriously. Irresponsible disposal of waste is both unsustainable and damaging to our planet. Currently, we go to great lengths to recycle and repurpose 90% of the waste that is bought into our depot. Our mission is to get that figure to 100% through our zero–waste–to–landfill strategy.
With DP Skip Hire, you can be sure that your waste is disposed of in a responsible, eco-friendly way across all of our services. That's our promise.
Find Out More
"Booked a skip for delivery at 8am, it arrived at five to. The driver was friendly and very professional, set up the skip exactly where I wanted it and proceeded to place cones and fit lights to the skip as it was on a road. Driver said he would sort out the paperwork and come over to me so I could carry on with the job. Overall excellent service from point of booking to delivery. This is the first time I have used them and would high recommend,.."
"Have used this company more than a dozen times in the last 3 years for renovating my property/garden. Skips always arrive and are collected when requested. Jon Really helped me out when it snowed and I needed to keep it longer than 2 weeks. No hidden costs and good to pay/order online by credit card. Thoroughly recommend..."
"First class service. Prompt, helpful, polite on time when they said they would be delivering and collecting. Thanks very much, would 100% recommend to anyone."