8 Cubic Yard Enclosed Skips For Hire in Stoke on Trent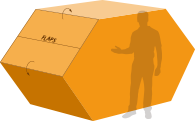 The 8 cubic yard enclosed skip is one of 3 lockable skips that we specialise in. This type of skip is more commonly used for long term contracts such as Trade placement. This kind of skip is also lockable to ensure that all waste remains secure through the duration of hire.
Please note: This skip requires good site access or permit for highway.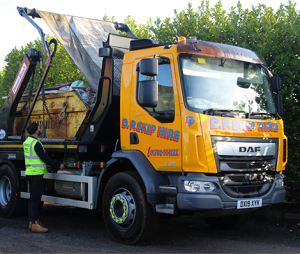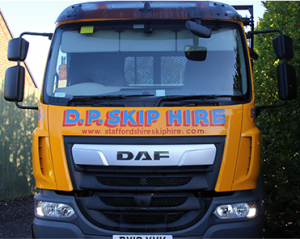 Is an enclosed skip right for your project?
Enclosed, lockable skips from DP Skip Hire in Stoke on Trent are the perfect choice for any type of general waste or recyclable materials. From heavy, over-sized objects to smaller amounts of garden and household waste, our skips are suitable for a wide range of projects both commercial and domestic.
No unauthorised access
Our enclosed skips are also lockable, which means no one can access your skip without your express permission. This is particularly good for preventing unauthorised persons from disposing of waste in your skip while it is unsupervised and deters flytippers. It also ensures that no inappropriate or hazardous waste finds its way into your skip when you're not there.
Protect your waste
Enclosed skips also prevent your waste from being stolen when the skip is left unattended. If you plan to dispose of waste that may still have some value, you can reduce the risk of theft by hiring a secure, lockable enclosed skip.
Keep the public safe
Heavy winds can cause lighter objects to fly out of skips, which can be hazardous. With enclosed skips, this isn't a problem. Members of the public, colleagues and workers are protected with a lidded skip and prevent exposure to any potentially hazardous materials.
Finding The Right Size Skip
It's very easy to underestimate the size of skip that you will need and in some instances consumers end up ordering 2 skips when a slightly bigger one would have been ample. None of us can afford to waste money so to be sure why not click on the video picture to the right and have a closer look at the size of skip you are thinking about.
Better to be safe than sorry!
---
8 Yard Enclosed Skip Hire in Stoke on Trent
To find out more about our 8 yard enclosed skips for hire, get in touch with us today. We pride ourselves on delivering a fantastic and efficient skip hire service to all of our customers to support their projects. Alternatively, you can book your skip online and get an instant quote through our online booking system.
---
Frequently Asked Questions 
How much does it cost to hire a skip?
The cost of a skip can vary dependent on the size you choose and length of hire. Our prices start from £90 for a 2 yard mini skip, and our skip sizes go up to our 40 yard RoRo skip.
Our skip hire is available for both domestic and commercial purposes. You can get a quote online now through our online booking form. Alternatively, if you require skip hire for longer than 2 weeks, please contact us on 01782 551 222.
Where can I put my skip? 
If you plan to put a skip on private property, it can go anywhere you choose. However, it is important to keep in mind that your chosen place must be accessible by the skip wagon for drop off and collection.
If the skip is to be placed on a public road, a permit is required from the appropriate council body along with safety lights and markings. At DP Skips, we can help to arrange the correct permit and ensure the appropriate markings are placed around your skip for the duration of hire.
Do you recycle waste in skips? 
We take our responsibility to the planet very seriously. As such, we work hard to ensure that 90% of all the waste that we bring into our depot is fully recycled and/or re purposed.  Through our zero waste to landfill strategy we plan to bring this figure up to 100% and divert all of the waste we bring in to other uses, instead of going to landfill.
How long can I hire a skip for?
Skip hire lengths are totally dependent on your project, and we can accommodate long or short term hires. For a skip hire duration of less than 2 weeks, you can book online. If you require skip hire for longer than 14 days, just give us a call on our professional team will make the necessary arrangements.
Book Now