Hire a 3 Yard Mini Skip From £125
Our 3 yard mini skips for hire in Stoke on Trent are a fantastic waste removal solution for smaller jobs. Not only are they compact enough to sit comfortably on your driveway or in your garden, but they also save you time and money in tip runs. Many of our customers choose the 3 yard mini skip for household DIY projects or garden waste.
Please note there is a surcharge for the disposal of carpet and plasterboard. This will be calculated at checkout.
Dimensions:
Height 2'6ft – Length: 6'5ft – Width: 4'0ft
Capacity: 35-45 bags
Are you looking at the right size skip?
It's very easy to underestimate the size of skip that you will need. In some instances, people end up ordering 2 skips (and spending more money!), when a slightly bigger one would have been more than enough for their needs.
To help you get it right, we created the video opposite to show you the different sizes we have available here at DP Skip Hire in Stoke on Trent. Alternatively, if you're unsure of the size you may need, give us a call on 01782 551 222 and chat with our team. We're positive that we can help with your query and advise you of the best skip for your needs.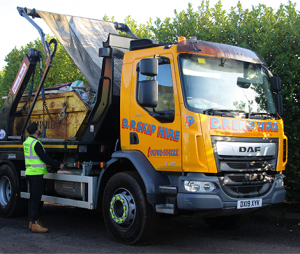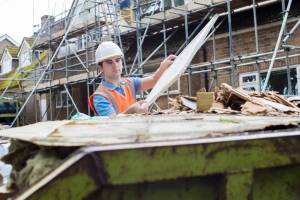 The benefits of hiring a mini skip
For domestic use, hiring a 3 yard mini skip is ideal for getting rid of small to medium amounts of waste without hiring a larger skip, which will be more expensive and take up more space.
Time-Saving
No matter the project, saving time matters – especially when you've got other things to be getting on with. A mini skip keeps all your waste in one place, without taking up lots of room. And what's more, when you've finished you don't have to worry about driving to the tip and doing the laborious job of binning all your waste. With our 3 yard mini skip hire, we'll do all the heavy lifting for you when it comes to disposal.
Safe
Having large amounts of waste strewn around your property can be a hazard to you and others. A mini skip will help to keep your rubbish contained and out of the way. They'll also keep the surrounding areas clear and allow easy access while providing a place for all your waste to be stored.
Environmentally Friendly
We're all becoming more environmentally conscious, particularly when it comes to our waste. At DP Skip Hire we are committed to preserving the planet and as part of our zero waste to landfill imitative we will ensure that all recyclable material is repurposed, and all waste is processed responsibly. With us, you can rest assured that you are doing your bit for the environment.
---
3 Yard Skip Hire in Stoke on Trent
To enquire about our 3 yard skip hire in Stoke on Trent, Staffordshire and Cheshire, give us a call today. Alternatively, for quick booking head on over to our online booking page for an instant quote.
Please note: All prices are subject to a 2-week hire period. For longer hire periods, please call us for our best price. Skips will be collected without notice if deemed to be above fill level. 
---