16 Yard Skip Hire From £370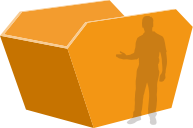 Our 16 yard large skips are another of our most popular maxi skips. A fantastic option for commercial clients looking to take on large construction projects, this type of skip is the ideal choice for large light bulky items. No soil or hardcore.
Please note there is a surcharge for the disposal of carpet and plasterboard. This will be calculated at checkout.
Dimensions: Height: 6'0ft – Length: 10'5ft – Width: 6'0ft
Capacity: Approx. 170 bags
---
Hiring a 16 Yard Skip with DP Skip Hire in Stoke on Trent
Here at DP Skip Hire, we are committed to offering our customers an efficient and reliable service that's great value for money. If you're looking to hire a 16 yard skip in Stoke on Trent, Staffordshire, or Cheshire, then give us a call. We can help you decide which skip will meet the needs of your project and ensure quick and efficient delivery and collection. Alternatively, if you know exactly what you're looking for, then head over to our Online Booking form for an instant quote.
---
Hiring The Right Size Skip
We know that commercial projects run to strict budgets, and for that reason hiring the right size of skip is paramount. Getting it wrong could result in extra costs and extra time spent on the project that would be better used elsewhere.
To help you overcome this, we've created a helpful resource which you'll find opposite. This handy video shows you all the different types of skips available for hire at DP Skip Hire in Stoke on Trent. If you are still unsure, then you can give us a call and talk to our team about your project. Our experts know everything there is to know about skip hire and can help you identify the right size for your needs.
Frequently Asked Questions
What is a skip permit?
If you plan to put your hired skip on a public highway instead of on land that is owned by you, you will need a permit from the relevant council body. You must have a skip permit before the skip is delivered, and there is a certain amount of notice you have to give to do so. At DP Skips we can help you arrange the appropriate skip permit and advise on any further requirements such as parking suspensions. Contact us for further information.
What can I put in a skip?
Anything from soil, bricks and timber to green waste, glass and metal can be disposed of in a skip. However, there are some things which cannot be put in a skip. These include items that fall into the category of clinical waste (such as syringes), fridges and freezers, flammables (i.e. petrol/diesel) and tyres. For a more comprehensive list, please see the 'hazardous waste' tab above.
How long can I hire a skip for?
At DP Skips, we provide flexible skip hire in Stoke on Trent. Long term and short term hires are welcome. For short term hire (less than 2 weeks) you can book through our online booking form. For hire longer than 2 weeks, please contact us by phone (01782 551222) and our professional team will help.
Book Now