4 Yard Midi Skip Hire From £155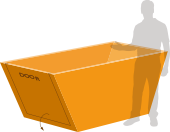 Our 4 yard midi skip is affordable and spacious, making it perfect for kitchen and bathroom refits or garden clearouts. Many of our customers hire this size and configuration of skip for storage and disposal of domestic waste, as it is convenient and compact.
As well as this, the 4 yard midi skip with drop door is a fantastic waste removal solution for projects with a mixture of waste that cannot be removed together. Having this type of skip on hand allows waste materials to be safely stored, and then disposed of, without taking up too much space either off-road or in driveways.
This skip is also designed with a heavy-duty drop-down door to allow for walk-in loading of heavier items.
Please note there is a surcharge for the disposal of carpet and plasterboard. This will be calculated at checkout.
Dimensions:
Height: 3'3ft – Length: 8'0ft – Width: 4'0ft
Capacity:
The 4 yard midi skip with drop door can hold between 45-55 bin bags.
Available in a range of sizes
Our drop door skips are available in 4 yard and 8 yard varieties, making them suitable for small domestic jobs and larger commercial projects with moderate amounts of waste. Skips of this nature can make assessing the risk on your site easier, as you can ensure that heavy pieces of waste are easily walked into the skip, rather than lifted and dropped.
The advantages of drop door skip hire
Drop door skips are ideal of heavy waste. The innovative design means that a user can walk into a skip with a wheelbarrow load of waste, and safely drop it into the skip.
Easy access
For oddly shaped or heavy loads a drop door skip is a perfect choice. The drop door design allows you to walk straight into the skip with your load, particularly with a wheelbarrow of waste.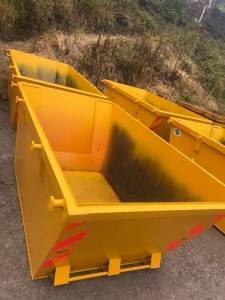 Choosing the right skip
It's very easy to underestimate (or overestimate) the size of skip that you will need. In many cases, this can be costly, as you could end up ordering a skip that is too big or too small. In the event that you hire a skip that is too small, you may have to hire another skip.
To help you get it right, we created a video showcasing the different sizes of skips available at DP Skip Hire in Stoke on Trent. Alternatively, we can help. Contact us with your project details and requirements and our team will help you identify the right skip for your needs.
---
4 Yard Skip Hire With Drop Down Door in Stoke on Trent
If you would like to hire our 4 yard skip with drop-down door in Stoke on Trent, Staffordshire and Cheshire, then get in touch today. You can do this by either calling us on 01782 551222 or using our online booking system.
Please note: All prices are subject to a 2-week hire period. For longer hire periods, please call us for our best price. 
Skips will be collected without notice if deemed to be above fill level. 
---