4 Tips For Decluttering In Time For Spring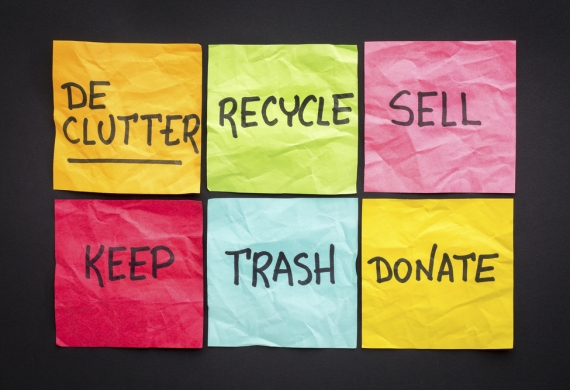 4 Tips For Decluttering In Time For Spring
Spring is almost upon us, and goodness knows we are all looking forward to the warmer weather. While we're all chomping at the bit to spend more time outside, March is a month for getting your house in order for the coming months. Over winter, when we hibernate from the cold weather, it's easy to let clutter build up. But, with the sun starting to shine and the birds singing in the trees, there's nothing better than a spring clean to blow away the cobwebs.
If you're gearing up to get your house in tip-top condition ready for summer, the first step is decluttering. While not always the most exciting of jobs, getting rid of all those unwanted bits and bobs, broken household items and unworn clothes can leave you feeling energised and ready to take on the world!
We know that getting started with this kind of thing is always the hardest. So, to help you, we have compiled a list of our top tips for decluttering your house in time for spring. Read on to find out more…
4 Decluttering Tips From The Experts
Clutter is one of those things that always seems to find its way into our homes, no matter how tidy we are. From cardboard boxes to endless reams of paperwork, all of these items tend to find themselves moved from one place to another endlessly, until you decide enough is enough and it's time for them to go!
Before you get stuck into your spring clean, it's likely your house is home to more than a few bits and bobs you can do without. So, before you get your Hinch on, take some time to clear the decks and start afresh with our decluttering tips!
Split Each Room Into Sections – And Start Small!
Decluttering can feel like an overwhelming task. Whether it's your kitchen, bathroom or bedroom, we've all lived that energy-sapping moment of standing before it all and thinking "where on earth do I start?". Often, this feeling comes about because of the notion that everything needs doing all at once, and of course, we just want it to be done. NOW. But that sort of approach is always going to lead to overwhelm and fatigue.
Instead, choose a room and split it into sections. How many sections you have will depend on the size of the room and how much patience you have for the day. For example, in the kitchen, you might decide to start with just one cupboard, to begin with.
Be Ruthless
If you find yourself umming and erring about whether to get rid of something, be ruthless! It's likely that the item(s) you aren't sure about will just end up cluttering up another part of your house and will eventually get thrown out.
We're not going to go all Marie Kondo on you here and suggest that you hold something and only get rid of it if it sparks joy. But the overall premise is the same. If you absolutely can't live without it, or it holds sentimental value, keep it. If not, it's time to make like Elsa from Frozen and let it go!
Contain Your Rubbish
One of the most overwhelming things about a decluttering project is the amount of rubbish you're left with. Where to put it all? And how on earth do you get rid of it?
A good way to approach this situation is to sort your unwanted items into categories and use something to contain each one. For example, if you have a pile of clothes destined for the charity shop, allocate a black bin liner or other bag and make sure it is clearly labelled.
If you have large amounts of rubbish and don't want to spend endless time driving back and forth to the tip, a skip is a great investment. Not only does a skip offer a single place for all your rubbish to go, but it also brings it outside of the house so you can enjoy the fruits of your hard work without the clutter of rubbish to be disposed of!
We'd also recommend investing in storage boxes or containers for the things you want to keep. As you work, you'll easily find a rhythm of sorting and allocating items to their relevant piles, making short work of even the most arduous of decluttering tasks.
Dispose Of Unwanted Items Responsibly
Finally, make sure you dispose of all your rubbish responsibly. Some household electricals, such as televisions and fridges, can't be disposed of in a skip or at the tip. Instead, you may need to arrange for a special collection service to take care of them.
Some items, like batteries, also shouldn't be disposed of with your general household waste. Instead, they should be deposited in a battery recycling bin, the kind of which you can normally find at your local supermarket.
Where you can, consider the three R's: Reduce, Reuse, Recycle. Can you give any unwanted items (such as furniture and white goods) to charity or a friend/neighbour? Is there a local recycling service that can deal with waste such as scrap metal and cardboard? One of the advantages of using a waste removal service, such as skip hire or grab hire is that you can be certain your rubbish will be sorted, recycled and disposed of responsibly, leaving one less job for you!
Need Help With Waste Disposal?
If you're taking on a decluttering project and need help in disposing of your waste, we can help! Our skip hire in Stoke on Trent and Staffordshire is hugely popular with residential and commercial customers alike. We have a number of skips for hire in a huge range of sizes, including mini skips and midi skips which are perfect for getting rid of waste in your home from decluttering.
Best of all, you can hire our skips online today! Each skip we offer is available for a hire period of up to two weeks, and we will drop the skip off directly at your door and collect it at a time that is convenient for you. What's more, if you require a skip hire permit to put your skip on the road, we will do all the heavy lifting for you, ensuring the skip is appropriately placed and signposted with permission from the relevant council body. All you have to do then is fill it up and wave goodbye to that clutter!