Can I Use Grab Hire For My Project?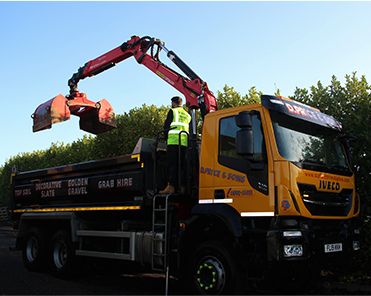 Can I Use Grab Hire For My Project?
While many of our customers have seen grab hire advertised on our website and social media, not all are aware of how handy grab hire can be for their project. Primarily used to remove larger amounts of waste, they can also be used to quickly remove smaller amounts of waste where a skip isn't appropriate, or even move materials from one location to another.
What Is Grab Hire?
Grab hire is a sided flatbed vehicle, which has an attached hydraulic arm used to "grab" aggregates or waste and move it to either another location or to a recycling facility.
Grab machines can remove waste that is within 4 meters of an accessway, including over fences and hedges. This means that for a number of properties in Stoke on Trent that are terrace houses but have a rear, drive-able, alley, they can still have their waste removed.
Waste Removal
Primarily, our grab hire machines are used for the removal of waste across a range of projects. For homeowners, our services are used throughout renovations. In many cases, the removal of interior (or garden) waste is completed in less than a day, and will often fill a large skip. Using grab hire removes the requirement to hire a skip that will be filled in less than a day, and have a full load of waste removed in less than 20 minutes. This can be around 16 tonnes of waste.
Grab hire vehicles can remove all manners of waste, from garden waste, including topsoil, trees and concrete, interior waste, such as general household waste, building materials, and other debris.
Please note that there are a number of items that cannot be removed by our grab hire vehicles. If you are unsure, please contact the team to discuss this.
More Than Waste
There are a number of larger building projects where grab hire machines can be used to move aggregates from one location to another. This includes moving earth from one side of the project to another or indeed from one project to another. It can also be used to move building aggregates around a site where a dumper is not sufficient, thanks to the onboard grab arm.
Grab Hire Stoke on Trent
If you are interested in grab hire in Stoke on Trent, or you would like to know more about the service, please contact the team today who will be happy to assist you. Our grab hire is available 7 days a week to suit your requirements. If you require regular visits throughout a project, please discuss this with us.
While we are happy to offer you the service that you request, we may also make suggestions that would otherwise benefit your project. This will come from decades of experience and will always be with you, the customer, in mind.