Why can't I put plasterboard into a skip?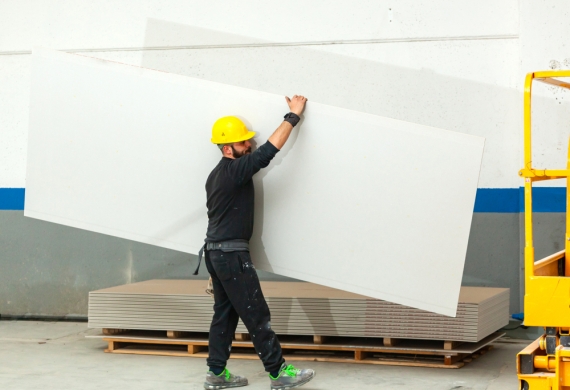 Why can't I put plasterboard into a skip?
A big talking point in the waste removal industry in recent times has been whether you can place plasterboard into skips. DP Skip Hire understand that plasterboard is constantly used in destruction, construction and industrial sectors.
Did you know that plasterboard is banned from landfills, along with a number of other waste products? Please note that most skip companies (including DP Skips) will refuse to accept even the smallest trace of plasterboard in their skips.
Why is plasterboard banned from landfills?
Since April 2009, plasterboard and a range of other items were banned from landfills because when mixed with other waste residues, putrefaction occurs. Hydrogen Sulphide is produced, which is a colourless gas with the same odour like rotten eggs, which is very unpleasant to work around.
It is also heavier than air, extremely poisonous, corrosive, flammable and even highly explosive, making it too dangerous for landfills and other environments.
The statement from the Environment Agency states that 'the land-filling of gypsum and other high sulphate bearing wastes with biodegradable waste has been prohibited in England and Wales since July 2005.'
However, up until 2009 most skip companies maintained that separate disposal was not necessary where construction waste contains less than 10% sulphate.
The solution for plasterboard
Here at DP Skips, we recommend hiring one of our mini-skips alongside one of our larger models if you know that there will be plasterboard in your waste. No plasterboard is allowed in landfills which means it is not allowed in the skip itself.
However, one of our affordable mini-skips will give you a self-contained and dedicated area to throw away your plasterboard without worrying about creating harmful gases. Please note that you will need to keep your mini-skip dry and free from water when keeping plasterboard in it.
It is crucial to keep Gypsum and plasterboard away from all other materials, plus you will need to inform your skip hire company you intend to put plasterboard in your skip. Not every company is willing to deal with plasterboard, so it's important that you choose one comfortable with this scenario.
Contact the leading skip hire providers
Here at DP Skip Hire, we provide skips and digger hire for domestic and commercial clients right across Stoke on Trent and the surrounding areas. Please do not hesitate to contact us today for more information.