DP Skips supporting our local community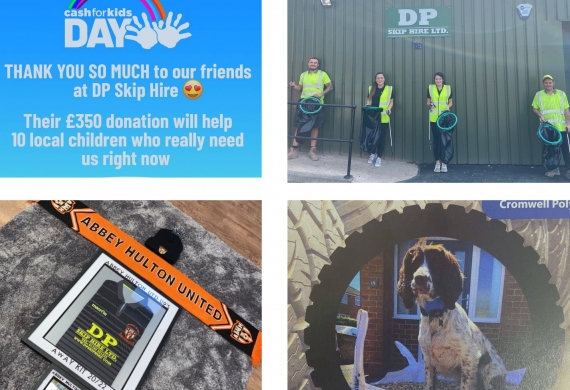 DP Skips supporting our local community
Here at DP Skip Hire, we know the importance of supporting the local community of Stoke on Trent.
For our latest blog, we wanted to shout about a number of local initiatives we have been involved with recently.
Back of the net!
Football very nearly came home last month, but that has not stopped us from continuing to support the Abbey Hulton Under 9s.
DP Skips have been sponsoring the team's away kit since 2020 and the club was kind enough to send us a framed version of the shirt with a team photo from the 2020/21 season. Safe to say this is going straight on our office wall!
Keeping Longton clean
Every Friday at least four members of staff from DP Skips are out and about and helping to keep Longton clean with our weekly litter picking. As an extremely environmentally conscious business, we are glad to be doing our bit to keeping the local community tidy.
Doing it for the kids!
We were delighted to recently support the Cash for Kids Day, with a £350 donation that will support 10 local children who need support.
This year's Cash for Kids appeal raised an incredible £2.5 million across the country, supporting 71,149 children.
The Cash for Kids charity aims to improve the lives of disadvantaged children and young people in our local community that are affected by poverty, illness, neglect, or any additional needs.
Hollie's all about health and safety
Our Health and Safety Clark Hollie Nelson recently passed her QNUK Level 3 Award in First Aid at Work. A big thank you to Apt Health and Safety Training for conducting the training sessions and well done to Hollie!
Prized Pooch!
In other staff news, we were also delighted to find out that our office dog Buster has been crowned 'Pup Idol' of the month by the waste industry's favourite magazine Skip Mag.
A big thank you to Skip Mag for including Buster, who is now looking quite smug with a treat in the corner of the office.
Quality skip hire vehicles available for hire
DP Skips enjoys supporting our local community, which includes being the leading supplier of skips across Stoke on Trent.
Hire a skip that's right for you, at DP Skip Hire today.