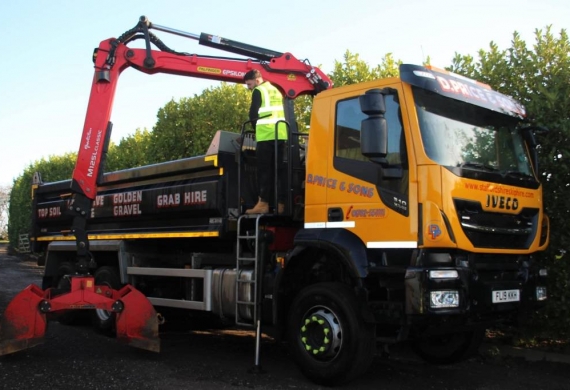 Grab Hire vs Skip Hire
If you're thinking of taking on some renovations or starting a clear out, then you'll need to decide on a waste disposal solution for removing the resulting waste from your home.
Planning proper waste management is an important component of any job, and choosing the right solution will make disposing of your waste appropriately a straightforward experience.
When it comes to waste disposal for domestic, or small commercial projects, skip hire might be the obvious solution, however, here at DP Skip Hire we offer a second waste removal solution that is well worth considering too- grab hire!
Grab Hire From DP Skip Hire
Grab lorries are specialist trucks, which are used to pick up, or grab, waste and clear it away. Grab lorries feature a hydraulic arm equipped with a bucket attachment, which can scoop up waste from even hard to reach areas, and load it into the back of the lorry so that the waste can be taken to a waste management or recycling facility to be processed.
Our grab hire services are suitable for the removal of a wide range of waste materials including soil, rubble, hardcore, bricks, garden waste, and general non-hazardous waste, and our grab lorries can reach up to 8 meters, so they're perfect for removing waste from fenced or walled areas.
Grab Hire VS Skip Hire
Skip hire is a fantastic option for the removal of waste, however, if you have particularly large items you wish to dispose of, or lack the appropriate space required for a skip, then grab hire can be an excellent option too.
Our grab lorries can park in front of your property for a short period of time, without the requirement of a permit, and are extremely agile, allowing them to collect waste from difficult to reach areas. A grab lorry is also an excellent way to drop off materials too, so our grab lorries can be used to bring materials to your site, and then to take away waste- two birds with one stone!
Find out more about our grab hire services, alternatively, if you're thinking of hiring a skip you can do so through our online booking form.
If you're in a pinch we can even offer next day delivery! For more information, or if you have any other questions about skip hire, please contact us and speak to our team. The DP Skip Hire offices operate 7 days a week for your convenience, and we're only a phone call away!