How To Dispose Of A Fridge (Without Getting Fined)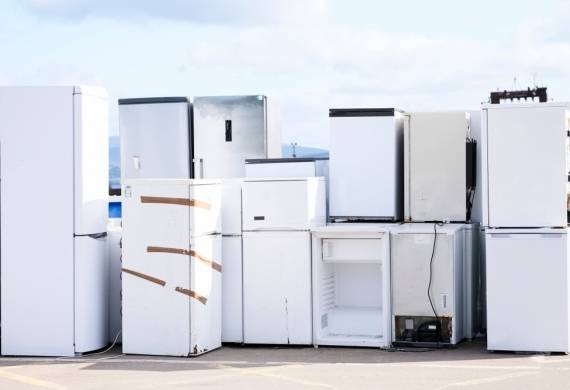 How To Dispose Of A Fridge (Without Getting Fined)
Fridges are tricky when it comes to disposal. While you may think that they can be just chucked into a skip and forgotten about, this is not the case. The mechanism of your fridge contains what's known as ozone-depleting substances called refrigerants. These keep the food in your fridge cool and fresh.
While refrigerants do an excellent job in a fridge, they are also known to have a negative effect on the environment. This is because they release ozone layer depleting gases which directly contribute to the greenhouse effect and global warming.
Therefore, disposing of your fridge in the correct way is essential to ensure that these refrigerants are removed safely. Failure to comply with the rule by fly-tipping a fridge, for example, could result in prosecution and a hefty fine of up to £2,500. Not to mention the weight of the environmental impact of your fridge on your shoulders!
How To Dispose Of A Fridge
There are a number of ways to dispose of a fridge correctly. Here, we'll give you all the ins and outs of fridge disposal to help you get it right!
Take It to A Recycling Centre
If you have a means of transport to move the fridge, you can take it to a recycling centre. It's important to do your research though! Some recycling centres do not have the capacity to dispose of fridges safely.  Therefore, they will not take your fridge at all.
To avoid a wasted journey, check the most up-to-date guidance from your local authorities' website, and make a few phone calls just to be sure. Many recycling centres will have a list of materials that they accept to help you find the appropriate place for your fridge.
Arrange A Collection
As not everyone has the means to transport a fridge, particularly larger ones, you can also arrange for collection through your local council.
Arrangements for this can be made through the council's website, and there is usually a fee to pay. There are also several other private waste removal companies or recycling firms who can arrange for curbside collection.
In almost all cases, it will be your responsibility to move the fridge outside your property ready for collection.
Ask The Retailer To Take It Away
If you are buying a new fridge, some retailers may take your old one away when they deliver the new one. In these cases, they will manage the whole process for you. So you can rest safe in the knowledge that your old fridge will be disposed of correctly in compliance with legislation.
Sell It or Pass It On
If your fridge is in good working order, you might consider selling it or giving it away. There are a number of websites and groups on social media that can help you connect to people in need of certain items, so it's certainly worth considering this avenue if your old fridge is in safe, working order and good condition.
Skip Hire & Waste Management
If you are looking to have a home clear out, our skip hire is available in
Stoke on Trent
Newcastle Under Lyme
Stafford
Crewe
Hanley
Longton
Leek.
To find out more information about what you can (and can't) put in a skip, please take a look at our dedicated page 'What Can You Put In A Skip?' for guidance.
At DP Skip Hire, we are dedicated to ensuring that all waste we remove is handled correctly. Therefore, we ask that our customers do not attempt to dispose of prohibited items, such as fridges, in our skips.
If you are unsure or would like any further support and advice on ways to dispose of your fridge, please contact our team. Our offices are open 6 days a week and we would be happy to help where we can.