How To Dispose Of Batteries Correctly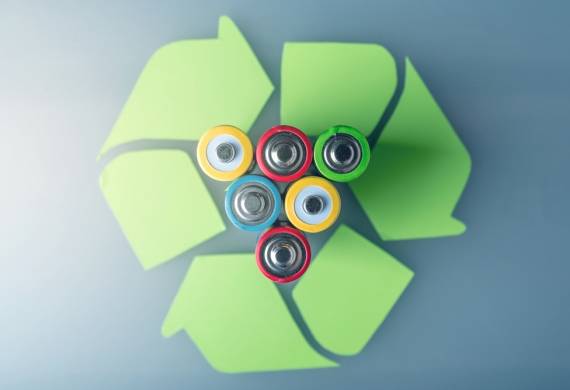 How To Dispose Of Batteries Correctly
Do you have a drawer crammed full of old, dead batteries that you have no idea what to do with? We're going to bet that this is a common feature in many UK households. From children's toys to games controllers, fairy lights and other household electrical items, batteries are a common feature of our day-to-day lives. But what should you do with them when the juice has run out?
How do I dispose of batteries correctly?
We know that we shouldn't just throw them in the bin, along with our other household waste. But why? And, as we all become a little bit more environmentally conscious and try to recycle more, how exactly do you dispose of batteries safely in the correct way? We'll give you the ins and outs on how to dispose of batteries, right here. So read on to find out more!
Why can't batteries go in the bin?
Batteries are classed as hazardous waste, which is why they can't go in your normal bin. Whether they are single-use (like the ones in your games console controller) or rechargeable batteries for a remote control car or other electrical items, they all contain a range of heavy metals that are hazardous to both humans and the environment.
The kinds of heavy metals you might find in a battery (and we don't recommend you go looking!) are mercury, lead, lithium, manganese and potassium – to name just a few.
The harmful heavy metals within a battery can leak into the soil if disposed of in a landfill. No big deal, right? It's only at the landfill site? Well, not quite. As these elements permeate the ground they can actually mix with rainwater that falls, which will eventually find its way into the water supply. This contaminates the water you drink, bathe in, clean with, and prepare food with. We're sure no one enjoys a side of mercury, or lead, with their morning cup of tea!
How can I dispose of batteries correctly?
So, we have established why batteries can't go in the bin. But what's the alternative? Surely, they can't just languish in that drawer for the rest of eternity?
Luckily for us all, and our homes, batteries can be recycled. Our only job is to dispose of them in the correct way so they can be collected. Here's how you can do just that!
Use A Battery Bank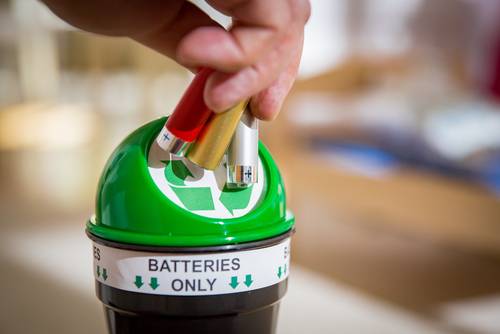 In the UK, there are a number of schemes and initiatives for battery recycling. Some of these are run by local authorities or private companies that are experts in this field. In fact, if a shop sells more than 32kg of batteries each year, it is a legal requirement for them to provide battery recycling bins in-store.
Therefore, it is quite easy to find a battery bank close to you. Battery banks are often located at your local supermarket, or within big retail outlets. When the battery bank is full, the organisations responsible for them will come and pick up the container and transport them to a recycling centre, where they will be sorted, and any recyclable materials recovered.
Leave Them For The Bin Men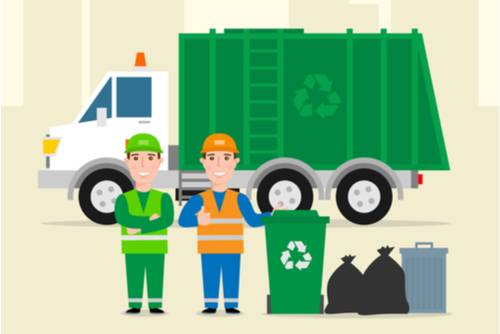 It's important to remember not to put your batteries in your normal household waste bin. But, if you can't get to the supermarket or local shop for whatever reason, you can leave your batteries for collection by the bin men.
In most areas, you can place your used household batteries into a separate carrier bag and leave it either on top of or next to your waste or recycling bin for collection. In some cases, you may have to request a special recycling bag from your local council. Information on this can normally be found on their website, so be sure to check it out before you leave anything for the bin men!
What types of batteries can I recycle?
AA, AAA and button batteries found in kitchen scales and watchers are recyclable. Battery packs, too, can be recycled. These are the types you may find in laptops or mobile phones. To leave for recycling, be sure to remove the batteries from inside the electrical item before you bag them up!
Car batteries, however, need to be recycled differently in line with the correct guidelines.
How can I reduce my battery usage?
If you use a lot of batteries, it may be more cost-effective (and environmentally friendly) to invest in a pack of rechargeable batteries. These are the types of batteries that can be reused over and over again. Simply pop them into the supplied charging point, plug them into the wall and away you go! While these can also be recycled, you're much less likely to have to do so as often, which is good for your bank balance and good for the environment!
About Waste Management from DP Skip Hire
As you can see, it's really easy for you to dispose of household batteries safely and correctly. And you really don't have to go out of your way to do it!
At DP Skip Hire, we are passionate about ensuring that all waste finds its way to the right place. Through our zero waste to landfill initiative, we do everything we can to make sure that waste collected in the course of skip hire and grab hire is disposed of responsibly, in line with government legislation and in the most environmentally friendly way possible.
We take great care in sorting through all the waste we collect and recovering any recyclable materials at our tipping facility in Longton. To find out more about waste management, skip hire or grab hire from us, please do not hesitate to contact us. We serve both commercial clients and residential customers in Stoke on Trent and the surrounding areas with the highest-quality, most affordable services possible, and we are sure we can help you find the right waste management solution for your needs!