Knowing what materials can be added to grab hire lorries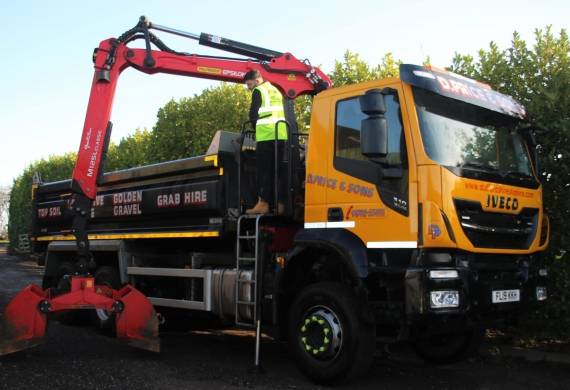 Knowing what materials can be added to grab hire lorries
If you are working on a large construction or demolition project, one of your first considerations should be a grab hire lorry from DP Skip Hire. This is the best way to deal with all of the waste generated.
For our latest post, we will share all the materials one of our grab lorries can handle.
Our grab hire lorries are adaptable!
Here is a breakdown of all the materials that you can you grabber lorries to collect –
Recyclable muck and muck away – Recyclable muck can also be accepted, including mixed soil, concrete and stone. These materials need to be separated carefully and you cannot add materials that are considered muck away.
Turf or tarmac is not easily accepted and you will need to check with your grab hire provider (such as DP Skip Hire) first.
Inert landfill materials such as clay, stone and chalk will be accepted seperately but they can't be mixed with inert landfill muck. Inert landfills cannot contain green waste, tarmac or any kind of turf.
Separating them carefully is crucial so the material can be processed properly. If your waste consists of just tarmac, you should consider a seperate collection for this material.
Demolition concrete – One of the most common uses of our grabber lorries is taking away demolished building materials. In some cases, builders will look at reusing some materials, but heavy materials will still need to be taken away.
Clean concrete and rubble can be taken away, including concrete blocks, paving slabs, broken concrete and rubble (such as bricks). It is fine to include a small amount of tarmac but there cannot be any soil, wood or other kinds of waste plus mixed reinforcement bars.
General recyclable waste – Recyclable waste can be given to your grabber lorry collector as long as it's carefully separated. If you have undertaken a major project that entails digging up and getting rid of lots of earth and soil – this can be recycled. Topsoil and hardcore also fall into this category.
Soil and organic material will need to be clean and non-hazardous as if it is contaminated it could be too volatile to mix with recyclable waste.
Landfill waste – Regular waste created during construction projects needs a separate collection truck. This includes rubbish accumulated by workers and generally on-site. One example could be rubbish from previous tenants when an old building is being demolished.
Have a word with DP Skips in advance if you have hazardous waste just to check it can be accepted.
Get in touch for more information
DP Skips are specialist suppliers of grab hire and skip hire lorries, working with a wide range of sectors.
If you have any questions about grab hire trucks, please do not hesitate to contact us today.