Popular scenarios where you need to hire a skip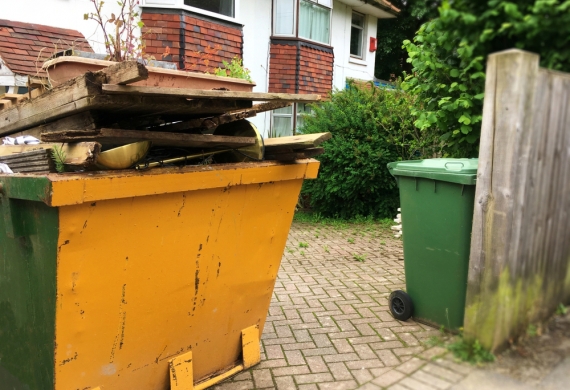 Popular scenarios where you need to hire a skip
Skip hire from DP Skips is the most convenient and cost-effective way to remove your waste.
For our latest blog, we will share four regular scenarios where you should consider hiring a skip.
4 Situations Where Skip Hire is Essential
Driveway renovations – One of the most common uses for skips is for the installation of new driveways. Firstly, your old driveway needs to be disposed of, involving the removal of plenty of unwanted material. This material is usually heavy and messy, so using one of our skips will help avoid damaging your car or yourself. Plus, you will not need to worry about sorting the waste into types because we will take care of this for you.
Garden Waste – Garden waste is another area where hiring a skip is very useful. Instead of filling your home garden bin, hiring a skip is much more convenient. This is because all organic waste can be thrown into skips plus you get the option of skip size to meet your exact requirements with DP Skips.
End of tenancies – When your tenancy comes to an end, whether you are a student or not, a central task is properly disposing of unwanted household items and rubbish. People who opt out of hiring a skip will often make cars dirty with multiple trips to the tip with your accumulated waste. On the other end of the spectrum, people who choose to fly-tip can receive fines and penalties from both their local council and letting agents. The third option is to simply leave belongings and rubbish and run the risk of losing your deposit. When faced with these options, the most cost-effective and convenient one is hiring one of our skips.
Home Renovations – The main reason house renovations call for skip rental is that they usually involve removing lots of different types of waste. This could be old wood infrastructure, cavity wall parts, floorboards, paving slabs or even the kitchen sink. Just remember that plasterboard cannot be put in a skip with mixed waste, instead, you will need to put it in a plasterboard bag.
Skips are the most useful way to remove waste in a number of situations. This could be renovating your kitchen, moving out of a property or removing garden waste. Hiring a skip helps to avoid multiple tip trips plus it's just more convenient!
Contact us for more information
If you have any questions about skip hire from DP Skips, please do not hesitate to get in touch now.