Recreating Your Garden This Summer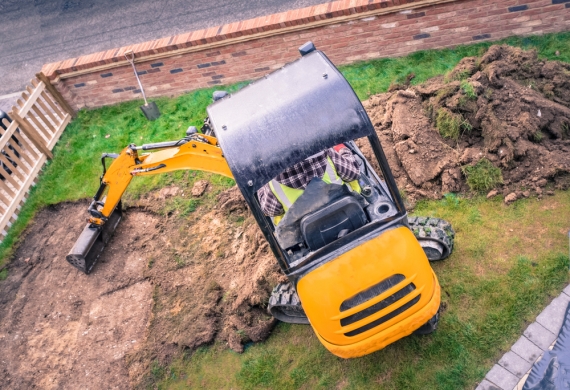 Recreating Your Garden This Summer
While here at DP Skips we are well known for, well, skips, did you know that we also have a lot more to offer that can help you totally transform your garden this summer? From digger hire to topsoil, tree bark to decorative gravel and just about everything in between.
For The Big Revamp
When it comes to large scale garden revamps you might want to consider more than just your average gardening tools. This means more than just a shovel, a wheelbarrow and a fork. Why not consider digger hire in Stoke on Trent. The use of a digger now only allows you to move large amounts of earth with minimal effort in a shorter amount of time. It makes for light work of lawn removal, tree stump/root removal and digging our new features, such as ponds and fresh flower beds.
Our smaller diggers are suitable where the only garden access is a single gate. They comfortably fit through a standard size gate (driver ability permitting!) however, if you are unsure, please measure the space in your gate and contact the team for advice. If you have the ability to get a larger digger into your garden, we have a vast selection to choose from depending on the job and size of your space. Our larger diggers can also be used to remove concrete, speak to us regarding the appropriate size and safety considerations for this.
Backfilling The Garden
If you have attacked your garden with a digger, and find that half of your existing garden has ended up in a skip, you might now be looking at ways to backfill your garden. If you are looking at creating flower beds or laying turf, consider bulk ordering topsoil. Our topsoil is full of all the nutrients your garden needs to flourish. Not to mention that it will be much better for your garden than the existing clay earth that Stoke-on-Trent is well known for.
If you are looking at creating a patio, you might want to consider our hardcore to help you level the area, or building sand to create the perfect base.
Adding Design Features
When revamping your garden, the final stage is creating a beautiful space for you and your family to enjoy. This includes adding a few finishing touches around the space.
While we can't help you with your flowers (trust us, you wouldn't want to see our plant choosing skills) we can help you to find the perfect framing decoration for them.
We offer a selection of decorative aggregates to beautifully frame your flowers or even your garden. Choose from the stunning plum slate, the bright red granite, or the classic Cotswold stone.
If you are looking for a more natural finish to your flower beds, why not consider bark? Which also makes for the perfect finishing touch to children's play areas.
Whatever project you are undertaking in your garden this summer, DP Skips are here to support you. Whether it's skip hire in Stoke on Trent, digger hire in Newcastle under Lyme, or grab hire in Leek, we have you covered. Check out our plant hire page, or contact us for more information.