Skip Hire in Hanley
Are you looking to hire a skip in Hanley? We've got you covered! Here at DP Skip Hire, we offer a range of skips for hire from smaller midi variations through to large industrial skips for commercial projects.
As well as both commercial and domestic skip hire, we also offer a range of other waste management services and solutions which may be of interest to you.
From plant hire (including digger and roller hire) to our tipping and recycling facilities based in Stoke on Trent, please contact us to discuss your requirements and find out what we can do for you.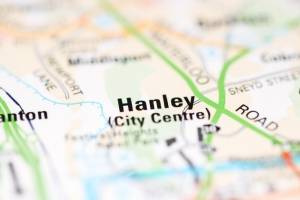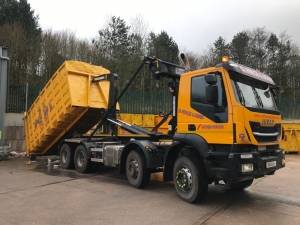 Why choose an enclosed skip?
There are a number of reasons why you would benefit from hiring an enclosed skip. One of the biggest reasons is that they remove the risk of unauthorised tipping into your skip. By locking your skip when unattended you can ensure that the waste remains your own and is not tampered with.
Another good reason to hire an enclosed skip is as protection against the elements. Dependent on what it is you are planning to tip, high winds can cause waste at the top of the skip to fly off. Choosing an enclosed skip removes this risk and supports you in fulfilling your duty of care to the public and anyone else working in the vicinity.
We currently have 3 different sizes of enclosed skip available for hire. They are: 8-yard, 12-yard and 16-yard variations. Each is lockable and enclosed, allowing you to store your waste safely and deter fly tipping when the skip is left unattended.
To book an enclosed skip with us, head over to our online booking form. All of our skips are available to hire online for a period of up to 14 days, and we will secure the appropriate permits for you should you wish to place the skip on a public highway. That being said, should you require a skip for longer, please don't hesitate to contact us and we will do what we can to facilitate your needs.
Commercial Waste Management & Skip Hire in Hanley
At DP Skip Hire we pride ourselves on delivering efficient, affordable and professional commercial waste management services and skip hire in Hanley. For us, no job is too big (or too small), and our friendly, dedicated team are committed to doing whatever they can to support clients and customers across Staffordshire.
To quickly and easily hire a skip today, head over to our online booking form. Simply enter your details and answer a few questions to get an instant quote and book your skip for when you need it. We'll do all the heavy lifting and even sort out a skip permit from the relevant council body should you require it.
Alternatively, for 40 yard RoRo skips, asbestos disposal, plant hire, or skip hire for more than 14 days, contact us to discuss your needs on 01782 551 222.