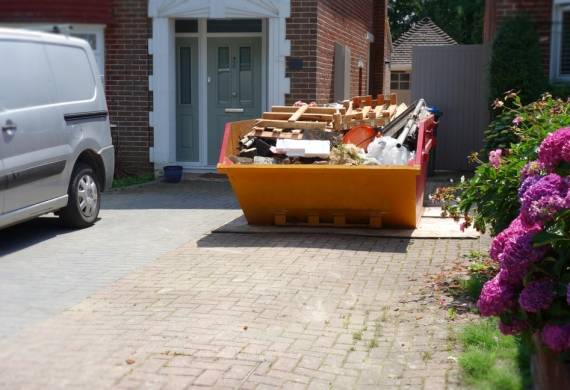 Skip or Trip to the Tip?
Deciding between a trip to the tip, or hiring a skip can have you sitting on the fence, wondering which is for the best. If you're having a hard time deciding which method of waste removal is right for you, we're here to give you a few ideas as to which is right for your type of waste.
Household waste
Providing you are not tipping asbestos the majority of domestic waste can be taken to your local tip. However, there are a number of factors to consider before deciding that this is the best course of action for yourself.
Firstly, you need to consider your mode of transport. If you drive a smaller, two door car, can you fit, lift and shift all of your waste safely? Please remember manual handling is important even outside of the workplace. Or if you drive a van or pick-up truck, they may be considered a commercial vehicle and therefore not allowed to dispose of waste. Depending on your vehicle, you may find yourself taking several trips to the tip taking up long periods of time.
The type of waste may also be a factor. If you have copious amounts of garden waste, you may not want to transport this loose in your vehicle, meaning that you would need to bag it all up. Then at the tip, they require garden waste to be loose, meaning that you will then need to empty the bags again. However, with a skip this waste can go directly in, meaning if you are clearing large areas of the garden you can save yourself time and effort then can be spent on the garden.
There are a number of electrical goods that cannot be disposed of within a skip. If this is the main focus on what you are getting rid of, this may mean a trip to the tip (where they have dedicated electronics disposal) or a call to your local council who may collect these for you (charges may apply).
For information on what you can and cannot dispose of in a skip head over to our dedicated information page.
Commercial waste
Commercial waste is a grey area in terms of taking this to the tip. For example, commercial vehicles cannot enter most waste facilities unless arranged by prior agreement. This is due to the ruling around tipping commercial waste. However, if the waste is taken in a domestic vehicle, the question may not arise. If you are caught disposing of commercial waste in this way, you may risk fines and/or prosecution.
If you are wanting to dispose of commercial waste, we recommend a skip to avoid any potential issues that may arise with other methods of disposal. Here at DP Skip Hire, we have a wide variety of skip sizes, ensuring that any size waste can be catered for. Even if you only have a small amount of commercial waste, we have small 2-yard skips or builders-bulk-bag which allow your waste to be manoeuvrable.
If you have any questions or concerns please get in touch and a member of our dedicated team will be able to advise you.