The Complete Guide to Disinfectant Fogging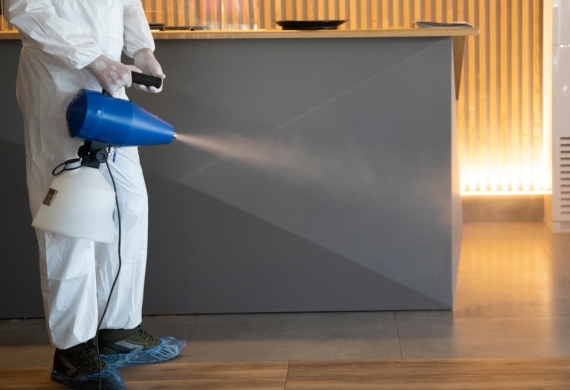 The Complete Guide to Disinfectant Fogging 
We are more aware than ever of the importance of keeping surfaces clean and safe, particularly when it comes to regularly used areas, and regularly touched surfaces and items.
As we start to move towards a 'new normal', businesses are increasingly looking for new ways to keep their spaces clean and safe, as effectively as possible. Enter Virucidal Disinfectant Fogging, a method for quickly disinfecting entire rooms or buildings, by eliminating viruses and bacteria on all exposed surfaces.
How Does Disinfectant Fogging Work?
Using a technique referred to as fogging, a powerful broad-spectrum virucidal disinfectant is sprayed evenly across a room or area, disinfecting all exposed surfaces quickly and effectively, with 99.999% efficiency, and protecting against illnesses such as Covid-19.
Why Choose Disinfectant Fogging?
Studies have shown that hard, dry surfaces can act as breeding grounds for bacteria and viruses, with a flu virus surviving for up to 24 hours and MRSA for up to 7 days. Consequently, it's important to take steps to ensure that your staff and customers are safe.
Depending on the size of the area in question, disinfectant fogging can be carried out in as little time as one hour, making it an extremely efficient option for quickly disinfecting your business, while also reducing the risk of errors that can occur when manual cleaning is used.
Using disinfectant fogging also reduces the number of harmful chemicals that would otherwise be required for other forms of cleaning, preventing damage to surfaces and the environment, and protecting staff and customers from exposure to chemicals.
What Businesses Are Suited To Disinfectant Fogging?
Disinfectant fogging is suitable for a wide range of business settings, including commercial businesses, public transport, hospitality venues, offices, healthcare facilities, factories and warehouses, and leisure facilities.
If you have any questions about disinfectant fogging or would like to request a quote, feel free to contact us and speak to our team. The DP Skip Hire offices operate 7 days a week for your convenience, and we're only a phone call away!