Using Your Newcastle-under-Lyme Garden This Summer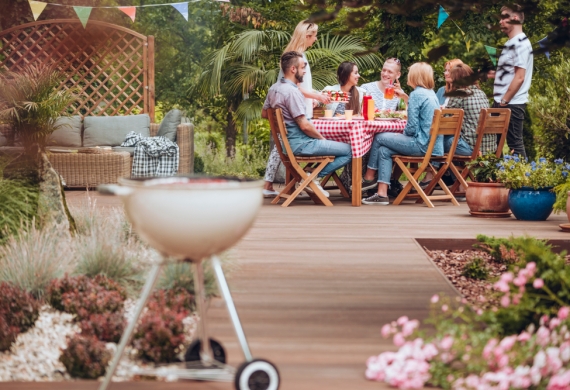 Using Your Newcastle-under-Lyme Garden This Summer
Over the last few years, much of Newcastle under Lyme has been plagued by a foul odour, making sitting out and enjoying the garden on a nice hot day nearly impossible. However, over the last few months, we have noticed a drastic decrease in occasions where the smell is so bad. Unfortunately, we know this isn't the case for everyone, but certainly for most. This means that this summer, we can look at getting out into the garden and enjoying it more. So what do you need to get your garden back?
Dig It Out
For some of us, this is when we can dig out the garden and start again. Whether it's been left to become overgrown, or just needs a new spruce of life, digger hire in Newcastle under Lyme can save you both time and effort!
Many gardens only have a standard garden gate entrance, which leaves many people questioning whether they could get a digger into their garden. Here at DP Skips, we have a mini digger that is the perfect size to fit through the average garden gate.
Hiring a digger not only makes light work of groundwork but also helps to remove old and unwanted trees and their roots.
Waste Removal
When it comes to digging out half of your garden, you might find that you are left with a large amount of waste. Whether this be excess earth, trees, or other things you've found while peeling back the layers in your garden.
There are three main ways you can remove your waste from your garden, firstly, taking it to the tip yourself. This means loading everything into your car and unloading it at the other end, and remember, your bags cannot go into the garden waste. Secondly, skip hire, is a well known and loved form of removal. And finally, grab hire, the lesser-known method.
Grab hire relies on you having an area to collect your waste that is 4 meters away from suitable road access. It can include going over hedges and fences. If you can collect your waste into a fair-sized pile, our grab machines can remove a full load in as little as 20 minutes. Ideal if you have nowhere to keep a skip on your property and are unable to obtain a permit. Why not talk to us about grab hire in Newcastle-under-Lyme?
However, grab hire isn't for everyone. Many people prefer to have a skip so that they can put the waste straight into it. It means that they can see the space, without a stack of waste piling up. It also means that they know how much they can fit into the skip, unlike a grab lorry.
Refilling Your Garden
After removing all the waste from your garden, it's time to make it look nice and inviting once again. So what do you have planned for the space?
If you are looking at turfing your garden, we offer bulk orders of topsoil. The soil is enriched with all the nutrients needed to give your turf the best start. Just don't forget to water it wall on hot days!
Have you decided that the kids need a climbing frame? Why not surround the base with play bark? This bark creates a nice soft landing should they fall off, without the risk of wearing thin like grass.
Finally, if you are looking at adding a splash of design and colour to your garden, why not consider adding some decorative aggregates to the space? Plum slate, Cotswold stone, or even green granite all make excellent additions.
If you are interested in skip hire in Newcastle under Lyme, or any of our other plant hire for your garden project, please contact the team today who will be happy to assist you.