What is Deep Clean Disinfectant Fogging?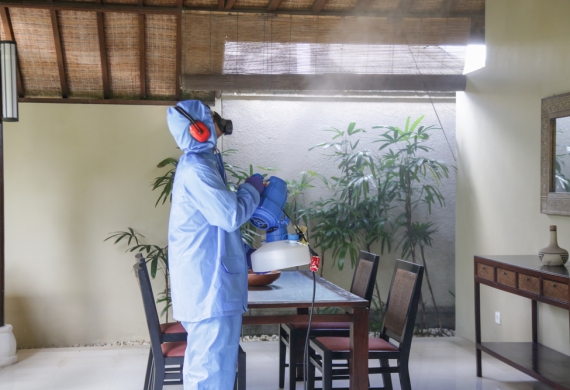 What is Deep Clean Disinfectant Fogging?
With the COVID-19 pandemic changing our cleaning habits considerably, keeping your business or education space free from germs has never been more important.
Whilst wiping down surfaces with a cloth is the most popular option, traditional cleaning methods only get rid of 11% of harmful bacteria and viruses. In fact, wiping down surfaces can actually spread germs, especially when only one cloth is being used to clean all surfaces.
Disinfectant fogging explained
Disinfectant fogging gives you a more sophisticated and thorough clean, using technology to break down the disinfectant into a tiny mist enabling it to contact every part of a room and reach any airborne bacteria or viruses.
The disinfectant kills bacteria, viruses or fungus within 60 seconds, which combined with current cleaning procedures ensures a safer and cleaner area for children, staff and families.
What is fogging?
Fogging is a process through which we can ensure rooms are free from bacteria, fungi and viruses.
DP Skips use fogging in several sectors, from healthcare to education, all looking to achieve the same result – safe germ-free spaces.
Why is fogging better than conventional cleaning?
Conventional cleaning can eliminate germs on surfaces, but it will not target areas that could be missed or hard to reach, such as underneath tables and spaces between cupboards. This leads to hotspots, where large volumes of bacteria accumulate.
Fogging kills the germs where they lie and prevents them from being transferred to another due to the automated and thorough process.
What does fogging kill that conventional cleaning doesn't?
While most conventional cleaning products claim they kill 99.9% of germs, the truth is that they do not kill as many as they claim.
Conventional cleaning could kill the common cold or influenza virus, but it would not kill MRSA, which is often present in healthcare settings. Fogging effectively kills all of these pathogens and more.
Clearing out before fogging
We are often contacted regarding fogging in a property that has been left empty for a number of years, or for properties that have been unkept. Fogging in these properties can help to remove the unwanted bacteria that has been left to grow. However, it cannot remove all the unwanted belongings and waste for you. For this, you can either call in experts or don yourself a suit and mask, hire a large skip and begin the task of clearing it out. In this instance, we recommend fogging prior to disturbing contents, and again after to ensure the safety of the property.
Unsure what size skip, or skips you would require? Contact the team today and we can help to discuss this with you.
Get in touch now for a quote
If you would like a quote for deep clean disinfectant fogging, please contact DP Skip Hire today.