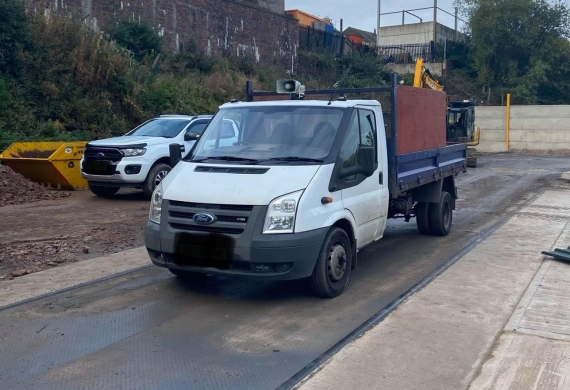 What Is A Weighbridge?
At our waste management facility, we have a fully operational weighbridge which is open to both commercial and domestic customers. But what is a weighbridge and what is the advantage to you when it comes to getting rid of your waste?
What Is A Weighbridge?
A weighbridge (sometimes referred to as a truck scale) is a large scale which records the weight of a vehicle and its contents. Typically, weighbridges are built on a concrete foundation and made up of a steel platform and load cells, which convert the force exerted by the vehicle into measurable output. The output is then displayed on a terminal, which is viewed by an operator.
At DP Skip Hire Ltd, our weighbridge is used to calculate the weight of waste we've retrieved. This is calculated by subtracting the unloaded weight of the vehicle from the loaded weight.
What Are The Benefits Of Using A Weighbridge?
There are numerous benefits to a weighbridge, particularly for our clients.
Accuracy & Consistency
As experienced as we are in the field of waste management, it is mostly impossible to accurately gauge the weight of your waste by eye. Having the weighbridge at our disposal ensures that you are never wrongly charged for disposal of your waste and that our prices remain consistent and fair across the board.
As well as this, in cases where we offer customers a rebate at market value for their waste (such as scrap metal and uPVC) the weighbridge ensures you get the most accurate offer every time.
Quick & Easy Service
Manually weighing waste, particularly large amounts is time-consuming and quite boring for our customers. Using the weighbridge makes the process much quicker and easier. Vehicles can simply drive on and straight off again and get a price for their waste pretty much instantly.
Health & Safety
We are committed to operating as safely as possible. Therefore, we use our weighbridge to check our vehicles are safely and evenly loaded. As we've mentioned, depending on the materials and capacity of the vehicle, it is not easy to estimate the weight of a load. Our weighbridge removes all the guesswork and ensures we are working to keep both our operators, customers and the general public safe.
Affordable Services
Using a weighbridge means we are able to provide our services quicker and more accurately. We pass these benefits on to our clients by offering the very best price based on the operations involved in weighing and processing your waste.
Waste Management from DP Skip Hire
Our weighbridge is located at our tipping facility in Longton, Stoke on Trent, and is open to both commercial and domestic clients. Whether you need to weigh your vehicle or have waste you would like to dispose of at our tipping facility, our weighbridge is on hand for use as and when you need it. To find out more, please contact us!