What Size Skip Do I Need?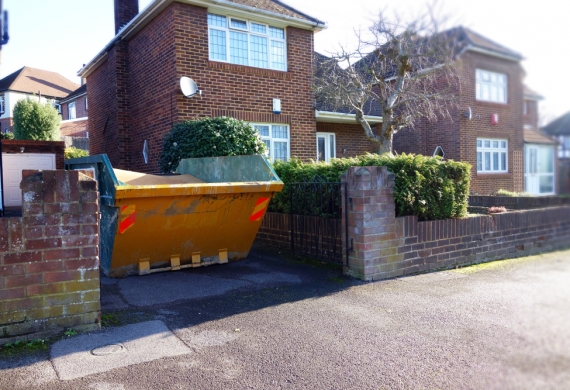 What Size Skip Do I Need?
With spring cleaning just around the corner, many people are looking for a way to avoid multiple runs to the tip. Here at DP Skip Hire, you can book skip hire online today, to solve all of your problems. However, once you're sure you want a skip, it's time to make a decision on what size you need.
By ordering a skip that's too big, you can feel like you've wasted your money. Alternatively, if you go too small, you may end up making extra visits to the tip or booking another, both of which will incur costs.
Here at DP Skips, we provide skip hire across Stoke-on-Trent in a variety of shapes and sizes to cater for your every need. Whether you're clearing out commercial premises, working on site or simply need a little skip for some work at home, we've got you covered. Therefore, in this article, we're going to explore each sized skip and what they're best used for.
Which Skip Size Do I Need?
Our range of skip hire provides skips of all shapes and sizes across Stoke-on-Trent. From builders bulk bags for small clear ups to 40 yard RORO skips perfect for sites and commercial waste, we've got you covered. In order to save time and money, it's important that you get your decision right the first time around. To help you do just that, we've put together the following guide based on our whole range:
Builders Bulk Bags
Builders Bulk Bags are an effective way to store and get rid of waste, without committing to the space that a skip takes up. If you're working on a project that only requires a small clear up, our strong, reliable and heavy-duty bulk bags are perfect.
Builders bulk bags can be used for all sorts of non-hazardous waste such as garden waste, household waste, rubble and sand. In fact, their hardy reinforced stitching with sewn in handles prepares them for up to one tonne of weight.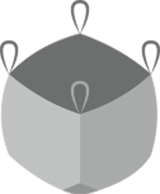 Price: Starting from £60
Capacity: 1 Tonne
2-3 Yard Mini-Skip
As the smallest two skips in our range, these models are extremely convenient for those working on domestic or business projects. Most of our customers find these perfect for their garden clearouts or DIY projects as they're the perfect size for most driveways.
Not only that, but they're perfect for cutting out several trips to the tip. Our mini-skips give you the full benefits of a skip on smaller projects, without having to sacrifice the space to store one of a larger size.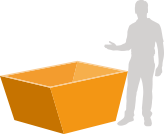 Capacity: 2 Yard: 25-35 plastic bags 3 Yard: 35-45 yard bags
Price: 2 Yard: Starting at £90 3 Yard: £110
4 Yard Midi Skip Hire
If you're looking for something that can handle a more substantial project, but don't want to make a huge jump in size, our 4 yard skips could be just right for you. Proving popular amongst customers looking to refit a kitchen, bathroom or clearout the garden, these skips are perfect for domestic projects.
Recognising that this skip may be the first to be used for more heavy waste, a heavy duty drop down door is provided. This is to allow for walk-in loading of heavier items. If you're expecting your project to result in a mixture of waste that can't be removed together, a skip with this kind of access is for you.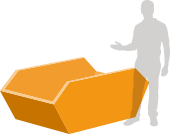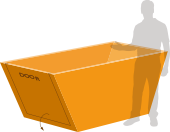 Capacity: 30-40 bin bags
Price: From £140
8 Yard Builders Skip (Enclosed or Drop Door)
Size has now doubled from the last skip, meaning that we're no longer looking at small projects. Our 8 Yard Builders Skip is designed to provide a waste solution for medium to large projects in either domestic or commercial properties. This skip can handle most things that you could throw at it. For example, rubble, soil, inert materials, hardcore, construction, and household waste just to name a few.
This size comes with the option of two forms. For an easier loading experience, you could choose the drop door skip. As mentioned before, this is perfect for loading awkward loads or for providing wheelbarrow access.
Otherwise, you can opt for our enclosed, lockable option. If you're worried about the security of your skip's contents, this could be the perfect solution. Commonly used for long term contracts such as Trade Placement, this kind of skip will keep its contents secure throughout the duration of your hire.
At this point, it's worth mentioning that depending on where they're stored, some of our skips could require good site access or a permit.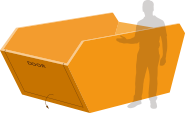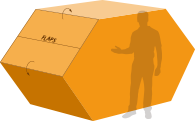 Price: With Drop Door: From £190
Enclosed: From £215
Capacity: 80 Bin Bags
12 Yard Enclosed Skip
Similar to our 8 Yard Enclosed Skip, this larger version will still keep your waste secure. However, due to it's extra four yards in size, it can take on any long term contracts that an 8 yard skip couldn't quite handle.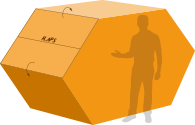 Price: From £280
Capacity: 80 Bin Bags
16 Yard Skip & 16 Yard Enclosed Skip
Once you start working on large projects, and you're looking to dispose of more bulky, large items, you'll need to start looking at a maxi skip. Our 16 yard large maxi skips capacity makes them an ideal option for commercial clients looking to take on large construction projects.
These skips are perfect for most waste, except for hardcore and soil.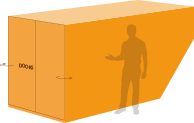 Price: From £300
Capacity: 170 bags
40 Yard RORO (Roll on Roll off) Skip
Sometimes, our vast range of skips already mentioned still might not be enough for the largest of projects. That's why we have invested in a 40 yard RORO Skip, perfect for site clearances, commercial waste and refurbishment projects. This skip's capacity is over double that of our previous entry and the opening rear door allows ease of access for those using it.
For a skip of this size, it's important to re enforce that the site must be secure. This skip is also not intended for soil or hardcore, but is perfect for any other approved waste materials. Whereas starting prices for our other skips have been provided, due to the nature of our 40 yard RORO skip, we ask that those interested get in touch with us directly for a quote.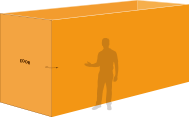 Price: POA
Capacity: 360-380 bags
Book a Skip Online Today with DP Skip Hire
Now that you have a better idea of which skip you would like, it's time to get it booked. Here at DP Skip Hire, you can book your skip online, immediately. If you still have any questions regarding our skips and services, please get in touch. One of our experienced and friendly team will be happy to assist you with any queries that you may have. For more information on our skip hire, you can browse our website. Alternatively, our blog is full of handy information such as what you can and can't dispose of, and our other specialist services outside of skip hire.
The DP Skip Hire team pride themselves on offering a fast and efficient service when it comes to skip hire in Stoke-on-Trent, Staffordshire and Cheshire. With efficient pick-up and drop off available on our skips and a variety of long term hire options available, we work hard to deliver the best possible customer experience. Not only that, but by using our skips, you are inadvertently helping the environment. Committed to helping protect the planet, 90% of all the waste that is bought into our depot is fully recycled and repurposed. Therefore, you can feel confident that skip hire from DP Skips is beneficial for all parties.