What To Do If You Discover Asbestos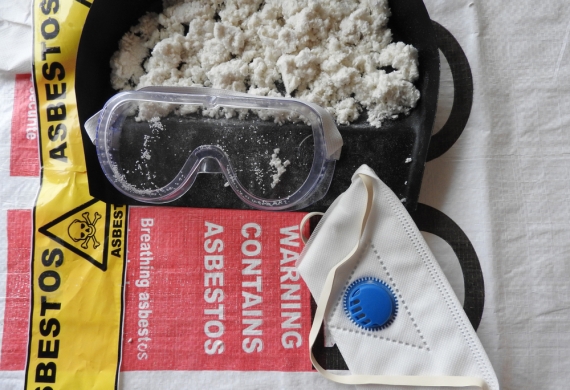 What To Do If You Discover Asbestos
Finding asbestos can be a real shock, however, it's important to know how to handle it safely if you do come across it. here at DP Skip Hire, our certified team can dispose of asbestos safely in line with regulatory standards on your behalf.
In this article, we'll take a look at what asbestos is and what you should do if you discover asbestos in the course of refurbishment or demolition works.
What is asbestos?
Asbestos is a term referring to six naturally occurring minerals, formed of heat resistant, flexible fibres.
Asbestos was once found to be an extremely efficient insulator, and as a result, considered one of the most versatile and effective materials used within the construction industry. Consequently, asbestos was used for decades as a building material, so while it has been banned in the UK since 1999, any buildings constructed prior to the ban are likely to contain asbestos in some form.
When asbestos is disturbed, asbestos fibres are released into the air, and these fibres can cause damage to the lungs if they're inhaled. Illnesses that can result from asbestos exposure include lung scarring and forms of cancer, symptoms of which can take decades to appear. As a result, if you suspect asbestos might be present in your home, or during construction work, it's important that you take the appropriate steps to have it removed and disposed of correctly, in accordance with regulatory standards.
Asbestos Disposal For Commercial Projects
All commercial buildings in the UK should have a record of known or presumed asbestos-containing materials, and a proper plan for how they will be removed and disposed of.
If you find asbestos in your commercial property, you will most likely need to make arrangements to have it removed, as leaving asbestos-containing materials intact isn't possible when any demolition or refurbishment is planned. If this is the case, you must arrange for the asbestos to be disposed of appropriately.
Asbestos Disposal For Homeowners
If your home was built prior to the ban on asbestos, it's possible that asbestos-containing materials might have been involved in its construction. In many cases, asbestos might be present in the plaster used for ceilings and walls, ceiling tiles, and some vinyl floor backings.
Generally, if the asbestos-containing materials are left undamaged, then it will be safe to leave them as they are. However, asbestos can be disturbed during renovation and repair work. In the event that asbestos is disturbed in your home, it's extremely important that you arrange proper removal and disposal.
Asbestos disposal from DP Skip Hire
Asbestos Removal In Stoke on Trent & Staffordshire
When it comes to asbestos disposal, we are committed to delivering a service that is safe and efficient. We have experience in dealing with asbestos in a variety of situations, from commercial projects to domestic homes.
Our experienced team is fully trained in the field of asbestos disposal, and its complexities, and can dispose of asbestos safely, providing sufficient PPE, and packaging, and adhering to regulatory standards.
If you have any questions about asbestos removal, feel free to contact us and speak to our team. The DP Skip Hire offices operate 7 days a week for your convenience, and we're only a phone call away!