What's The Difference Between A Dump Truck And A Dumper?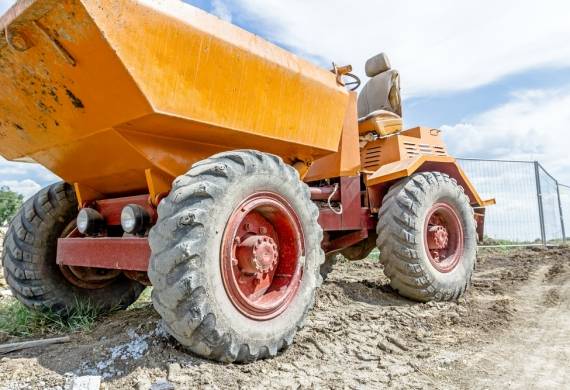 What's The Difference Between A Dump Truck And A Dumper?
Unsure if you require a dump truck or dumper hire for your upcoming construction project? A dump truck and a dumper are similar work vehicles, however, they have a few major differences. It can be quite easy for someone who isn't familiar with either to mix them up. It's important to understand the difference between them so that when you decide to hire a dump truck or a dumper in the future, you will know what type of vehicle you are hiring. In this article, we will discuss both vehicles and describe the difference between them to eliminate any confusion.
How Does A Dump Truck Differ From A Dumper?
A dump truck is a type of heavy-duty vehicle, which is designed to transport loose materials such as dirt, sand and aggregates such as gravel just to name a few. A typical dump truck has an open trailer box (similar to a skip) located at the back of the vehicle, in which the operator uses hydraulic pistons to either raise or lower the box. This facilitates the loading and unloading of loose materials. On the other hand, dumpers are smaller in size and more compact than dump trucks. Another difference is a typical dumper still has the open trailer box, but it is located at the front of the vehicle, instead of the back. The box is operated in a similar way to the dump truck.
How Do You Choose Between A Dump Truck And A Dumper?
Your choice between a dump truck and a dumper will depend on the scale of your project and the size of the site under construction. Dump trucks are typically used in larger construction sites for medium to large-scale construction and infrastructure projects. Additionally, dump trucks can also be used for transporting loose materials over rough and uneven terrains. Meanwhile, dumpers are designed for smaller construction and infrastructure projects, where the site space is more restrictive. Being larger in size, dump trucks do not offer the same agility or manoeuvrability as a dumper, which means they are not the best choice for small construction sites. 
What Is Dumper Hire?
Dumper hire refers to renting or hiring a dumper for a specific length of time. A construction company can decide to hire a dump truck instead of purchasing one outright for one specific project. Dumper hire is versatile, cost-effective and the ideal solution for construction companies who do not use a dumper on a regular basis. Another advantage of dumper hire is the rental fee usually covers the cost of hiring the dumper, insurance, maintenance and even the delivery & pick up of the vehicle. 
Dumper Hire In Stoke-On-Trent
The safest and fastest way of transporting loose materials from a small construction site is by hiring a dumper. Using a dumper is essential in the early phases of a construction project when the ground needs to be prepared. Before work can commence, materials need to be removed. If excess or unnecessary loose material is left on-site, this could interfere with operations and cause a safety hazard to construction workers.
If you require dumper hire for your construction project in Stoke on Trent, Newcastle-Under-Lyme, Stafford, Crewe, or Longton, visit a local dumper hire company like DP Skip Hire to satisfy your requirements. Our fleet of modern and reliable dumpers are ideal for small to medium-sized construction projects and for sites with restricted access. You have the choice between our 1.5 tonne Hi-Lift dumpers for smaller jobs and our 3 tonne dumpers for more complex projects. All of our dumpers are regularly serviced and maintained by our expert team before they are taken out for hire.
If you're interested in dumper hire from DP Skip Hire, or you are looking for more information, please contact us by calling us on 01782 551222, or emailing us at info@dpskiphire.com today.