Why You Should Hire a Drop Door Skip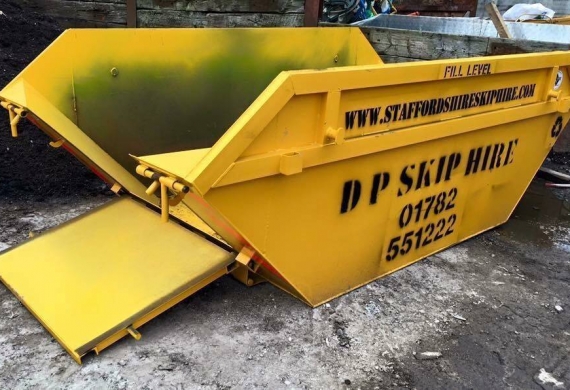 Why You Should Hire a Drop Door Skip
Here at DP Skip Hire, we have over 25 years of experience providing skip hire in Newcastle-under Lyme, Stoke-on-Trent and the surrounding areas. Whether you're looking for help with a domestic or commercial job, our team goes above and beyond to ensure that we provide you with the best possible experience. Our equipment is also carefully selected to provide you with the best skip hire for your situation. A popular feature domestically and commercially, is having a drop down door. In order to explain how this can help you, we've put together the following guide.
What is a Drop Door Skip?
When you're hiring a skip, you may need to work with waste that is difficult to handle. In these circumstances, it can be difficult to lift them into a skip, at least on your own. In order to help with this, it's in our interest to offer our customers a function to improve their experience. For that reason, we have drop door skips available for hire.
Our drop door skips come in the following two sizes:
Each of these is fitted with a heavy-duty drop-down door to allow you to walk-in those more difficult items.
Why Would a Drop Door Skip be Helpful?
Drop Door skips carry a variety of benefits but prove particularly helpful when working on a commercial job. For a start, they can offer a huge boost to your productivity when disposing of waste. Thanks to the easy access of the drop door skips, loading doesn't require as many people as it may have needed if waste had to be lifted.
Their use for heavy waste also prevents heavy lifting injuries acquired by your colleagues and employees. Not only does this protect your employees, but it also makes it much easier to assess the risk involved with your job.
Book Drop Door Skip Hire in Newcastle-under-Lyme, Stoke-on-Trent and Staffordshire Online
To see our full range of skip hire available across Newcastle-under-Lyme, Stoke-on-Trent and Staffordshire, browse our website. Alternatively, if you're ready to book, you can do so online today. If you have any questions regarding any of our products, please contact us. Our team of experienced and friendly staff will go above and beyond to ensure that your skip hire is affordable, reliable and efficient.