A Guide to Skip Hire from DP Skip Hire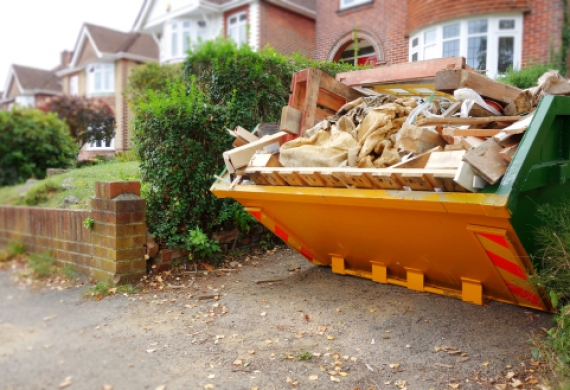 A Guide to Skip Hire from DP Skip Hire
Hiring a skip for the first time can feel a bit daunting, it can be difficult to know what size to hire, whether a skip is suitable for your project, and whether you need a permit or not.
But fear not! Our handy guide will give you all the information you need to hire a skip with confidence!
What Size Skip Should You Choose?
We offer a range of skips suitable for domestic projects and commercial work, the size of the skip you choose will depend on the size of your project. Our builder's bulk bags are perfect for small garden renovations or clear outs, while our 2-yard and 3-yard mini skips are suitable for slightly larger domestic jobs.
Our 4-yard midi skip is also suitable for big domestic jobs and home clear-outs, while our 8-yard builder's skip is the ideal choice if you're planning larger home projects such as kitchen or bathroom renovations.
Our 12 and 16-yard skips are typically used for longer-term projects such as trade placements, while our 40-yard RoRo skip is ideal if extremely large volumes of waste disposal are required.
What Can You Put In A Skip?
Standard skips are only suitable for non-hazardous waste disposal, so if you're hiring a skip for the first time it's important to understand waste classifications. Some common items that cannot be disposed of in a skip include; asbestos, batteries, medical waste, fluorescent tubes and lightbulbs, electrical appliances such as fridges, freezers and televisions, gas cylinders, tyres, chemicals and pesticides.
It's actually illegal to mix hazardous and non-hazardous waste, so it's extremely important that you read up on what can and can't be disposed of in your tip- to ensure no inappropriate waste finds its way into your skip. Find out more about items that should not be disposed of in a tip.
Do You Need A Permit For A Skip?
It's important to note that when you're hiring a skip, you will require a permit if you intend on placing the skip on a public road or highway, rather than on your own property. Under no circumstances can a skip ever be placed on a pavement, so it's important that you plan appropriately for a skip to be placed either on a road or on your own land.
If you cannot place a skip on your own property- fear not! We can help you get hold of the required permit to keep your skip on a road, simply contact us to discuss your requirements! Find out more about permits for skip hire.
If you have any questions about skip hire, feel free to contact us and speak to our team. The DP Skip Hire offices operate 7 days a week for your convenience, and we're only a phone call away!