Do You Need a Permit To Hire A Skip?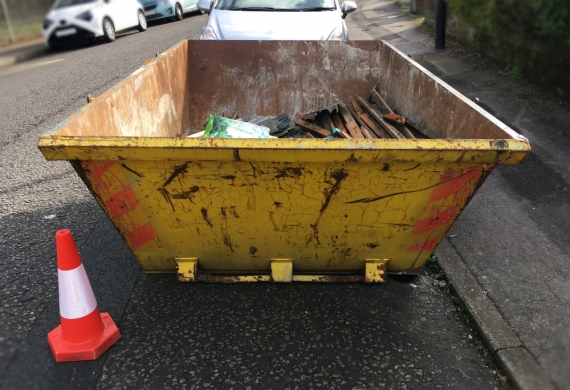 Do You Need a Permit To Hire A Skip?
When you hire a skip, there are certain situations where you may need to acquire a permit. Specifically, you need to get a permit (or licence) from your local council if you wish to put the skip, skip bag or hippobag on a public road or public highway, rather than your own private property.
Skip Hire Permit FAQs
At DP Skip Hire Ltd, we often get questions about skip hire permits and how to go about securing one for your project. In this article, we'll take a look at some frequently asked questions in relation to skip hire permits to help you.
Can A Skip Go On The Pavement?
There are no circumstances where a skip can be left on the pavement. Skips can either be put on private land (your driveway or garden, for example) or a public road.
If your skip is to be placed on a public road, there are rules which need to be followed to ensure compliance. These are:
You must not position your skip in an area which blocks the pavement, driveways or access to properties
You must not put your skip on top of any utility access points, like manhole covers
You must not position your skip within 15 metres of a junction
If your skip is located on yellow lines, or within a pay and display bay, you'll need to get a parking suspension permit from your local council prior to placement.
As well as this, on public highways skips must be positioned lengthways along the road parallel to the pavement. It shouldn't jut out or cause an obstruction in any way to oncoming traffic. A skip placed on a road should also have appropriate lighting and traffic cones placed around it.
When you hire a skip from us, we will ensure that all rules and regulations with regards to skip placement are followed when the skip is delivered.
How Do I Get A Skip Hire Permit?
Getting a skip hire permit from your local council is actually pretty easy because we can do it all for you! In fact, most councils only allow applications for permits to come directly from the skip hire companies (that's us!) themselves, rather than the customer.
So, to get a skip hire permit if you have no space in your garden or driveway to store your skip, all you need to do is let us know and we'll do the rest for you!
How Much Does A Skip Licence Cost?
As skip hire permits and licences are issued by local councils, there is no fixed price. However, you can expect to pay anywhere between £60 – £150 for a skip hire permit from your local council.
If your chosen skip hire company arranges the permit, you will pay this directly to them. Local councils we currently deal with for skip hire permits include Stoke on Trent Council, Staffordshire Council, Shropshire Council, and Cheshire Council.
How Long Does It Take To Get A Skip Permit?
Many local councils have a notice period for skip permits. Much like the price, this varies from council to council. Of the local councils we deal with for skip hire in Stoke on Trent, Stafford and surrounding areas, you may need to give anywhere up to 5 working days notice when making an application for a skip permit.
How Long Is A Skip Permit Valid For?
Skip permits are typically valid for a certain length of time, ranging between 1 week to 30 days. If you require a skip for longer, and it needs to sit on a public highway, then you will most likely have to renew your permit, which will be subject to an additional cost.
If you anticipate you may need your skip for longer, it's best to speak to your chosen skip hire company about their maximum hire periods and ask for their advice in regards to your specific needs.
Skip Hire from DP Skip Hire Ltd
If you're looking to hire a skip in Stoke on Trent, Stafford, or Crewe, we have you covered. Here at DP Skip Hire, we have a wide range of skips in all sizes, ranging from 2-yard mini skips to large commercial 40 yard RORO skips, to meet all kinds of requirements, both domestic and commercial. When you hire a skip from us, we will do all the heavy lifting for you in terms of skip hire permits, safety procedures and positioning. All you need to do is decide what is going to go in your skip.
To book your skip online today, use our online skip hire booking form. Or, if you would like expert advice on skip sizes, placement or anything else regarding waste disposal in Staffordshire and the surrounding areas, contact us today. Our team are on hand 7 days a week to help – just give us a call on 01782 551 222.