A Step-by-Step Process for Efficiently Loading a Skip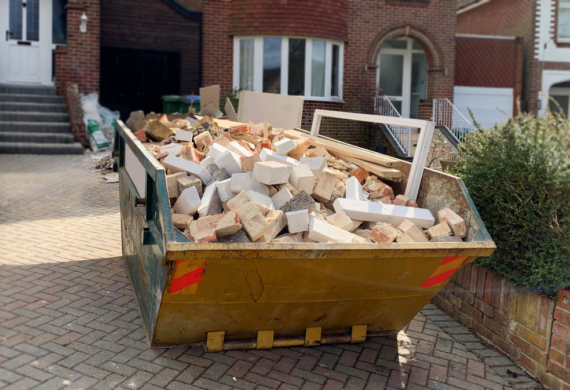 A Step-by-Step Process for Efficiently Loading a Skip
Loading a skip may seem like an effortless task. Just throw your waste into the skip, it's as simple as that. However, doing it efficiently is crucial for waste management and disposal, whether you're a homeowner doing a DIY project or you work in the construction industry. The content of this article will cover a step-by-step process for efficient skip loading. This process will help you maximise the skip's capacity, save time and money and ensure waste disposal is done in an environmentally responsible manner.
1) Choose The Right Skip Size
Before you hire any skip, it's important to select the appropriate skip size. Skip sizes can vary, and choosing the right one will ensure you don't end up with an overflowing skip and have to pay extra for another one. At DP Skip Hire, we have many different skips to choose from, starting from builder bulk bags and 2 yard mini skips all the way up to commercial 40 RORO skips. To determine the right skip size for your project, see our What Size Skip Do I Need? article.
2) Organise Your Waste
Sort your waste into different categories to make loading more efficient and recycling easier. Separating materials like wood, metal, concrete and general waste will not only save space in the skip but also promote recycling and reduce landfill waste. You may need to go to a scrap metal, UPVC recycling or tipping facility. To find out what can and can't be placed in a skip, visit this page for more information.
3) Spread Out Large & Bulky Items 
Begin loading the skip with any flat items to create a base, followed by larger and heavier items. This could include furniture, appliances or any bulky waste. Spread them out evenly at the bottom of the skip to distribute the weight. If you're working with bin bags full of rubbish, be sure to squeeze all the air out. Break down any large items into smaller pieces to maximise the available space in the skip. For example, large cardboard boxes can be flattened, furniture can be dismantled and long tree branches can be cut down. All of these techniques will help make the most of the skip's capacity.
4) Fill The Gaps With Smaller Materials
As you load bulky and irregularly shaped items, try to fill any gaps with smaller, more flexible waste materials. This will help ensure there are no empty spaces in the skip, optimising its capacity further. Distribute the weight as evenly as possible throughout the skip. Avoid overloading one side, as this could lead to an unbalanced load, making it difficult to transport the skip safely.
5) Avoid Overfilling
It's essential not to overfill the skip. Most skips have designated fill lines that must not be exceeded for safety reasons. Overloading can result in unsafe transport and potential fines. If you are starting to become tight on space, you can use a plank of wood or another suitable tool to compact the waste gently (if your skip hire company allows it). This can help create more space in the skip, allowing you to load more waste while still complying with the necessary weight restrictions. If you find that you're running out of space, consider hiring an additional skip or arranging an alternative waste disposal option.
6) Cover The Skip
When the skip is not in use, make sure to cover it after loading. A skip net will prevent any waste from blowing away in the wind whereas a tarp can help protect it from rainwater. Covering the skip also helps ensure that no unauthorised items are added to the skip while it's unattended, especially overnight. 
7) Prepare It For Collection
When you are finished with loading the skip, make sure to double check that no prohibited items such as asbestos and chemicals have been added. It may be helpful to keep a record of the waste inside the skip for future reference or if you're in a business that needs to track waste disposal for regulatory compliance. Again, keep the skip covered to prevent any waste from blowing away during transportation. 
Book A Skip Today 
By following these steps, you can make sure your skip hire experience goes as smoothly and efficiently as possible. To make it even easier, you should consider hiring your next skip from DP Skip Hire. We offer short and long-term affordable skip hire across Staffordshire and South Cheshire, providing excellent products as well as a speedy drop-off and collection service. What's more is 90% of all the waste that is brought to our waste depot is recycled and repurposed. 
As we mentioned above, we offer a broad range of skips to suit both domestic and commercial disposal needs. You can book a skip online or give us a call on 0178 255 1222, our team will also be happy to answer any questions you may have. Happy loading and disposing!