Make Sure Your Business is Ready to Reopen with Disinfectant Fogging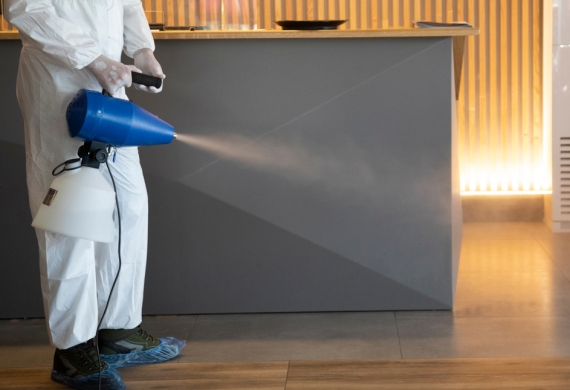 Make Sure Your Business is Ready to Reopen with Disinfectant Fogging
Ensuring that workplaces are clean and safe environments has never been more important, and with many of us currently hoping that we'll soon be able to return to our workplaces, disinfectant fogging could be the perfect precaution to provide peace of mind when your staff return.
For restaurants, offices and shops, health and safety for both staff and customers is a number one priority. Having steps in place to deal with a virus outbreak or possible close contact with an infected person will make getting up and running again quick, easy and fuss-free.
What Is Disinfectant Fogging?
Disinfectant fogging involves a mist of disinfectant being sprayed from a fogging machine across surfaces in a room. Disinfectant fogging is an extremely effective way to quickly disinfect entire rooms, including difficult to reach, or often forgotten, areas.
While traditional cleaning measures are still required, disinfectant fogging can act as an excellent additional measure to ensure the safety of your staff, and cleanliness of your workplace. Research has shown that bacteria such as MRSA can live on a hard, dry surface for 7 days, a flu virus for 24 hours and C-Diff for 100 days. Consequently, disinfectant fogging can be an important tool in protecting staff and customers from infection or even reinfection.
Disinfectant Fogging From DP Skip Hire
Our disinfectant fogging service uses a powerful broad-spectrum virucidal disinfectant that has been approved by Governments around the world. Our system sends a mist at 0.2 microns, eradicating viruses and bacteria from large surface areas extremely quickly, we are equipped to fog an entire building in under an hour, with 99.999% efficiency.
Whole room disinfection devices can help eliminate some of the errors that occur in cleaning, as well as cut down on manual labour required by staff.  Whole room disinfection devices also limit the use of chemicals, which greatly benefits the environment as well as employees who would otherwise be using harmful cleaning products on a regular basis.
If you have any questions about disinfectant fogging and the benefits of disinfectant fogging, feel free to contact us and speak to our team. The DP Skip Hire offices operate 7 days a week for your convenience, and we're only a phone call away!