How To Correctly Dispose Of A Mattress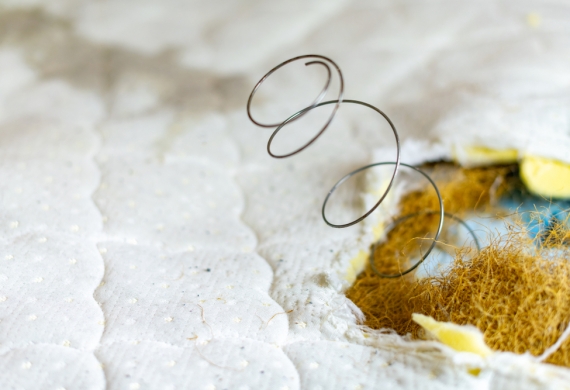 How To Correctly Dispose Of A Mattress
If you've treated yourself to a new mattress recently, you're probably wondering how to dispose of the old one correctly.
According to an article by The Guardian, over 7 million mattresses were thrown away in the UK in 2017 alone, with the majority heading straight to landfill. In fact, the current recycling rate for mattresses sits at around 19% at present. What's worse is that mattresses are still one of the most commonly seen items dumped at the roadside by fly-tippers.
As you might imagine, the environmental impact of sending mattresses to landfill is huge. What's more, considering just how many mattresses find their way to landfill each year, it's unsustainable. Zero Waste Scotland calculated that if the 600,000 mattresses thrown away in the country alone were stacked on top of one another, the resulting tower of mattresses would be 100 times taller than Ben Nevis.
For these reasons alone, if you're looking to dispose of a mattress in 2021, it's important to do it correctly and sustainably. Here at DP Skip Hire Ltd, we are committed to a Zero Waste To Landfill strategy to ensure all of our clients waste is reused and recycled correctly where possible. In this article, we'll look at how you can correctly dispose of your mattress to avoid fly-tipping fines and maximise the chances of it being recycled correctly.
How To Dispose Of A Mattress Correctly
The lifespan of a mattress currently sits between 8 and 10 years, depending on your bed frame, the type of mattress and its quality. Of course, if a mattress is obviously broken or uncomfortable, it may be time to upgrade sooner. However, with the correct bed frame and maintenance, most mattresses have the ability to last up to eight years while still remaining supportive and comfortable.
But, how to dispose of your old mattress if you are in the market for a new one?
Council Waste Collection
Your local council will most likely offer a waste collection and disposal service for bulky items such as mattresses and fridge freezers. For most councils, there will be a charge for the collection of bulky waste. For example, Stoke On Trent City Council charges anywhere from £40 for bulky waste collections and electrical items, depending on the amount and type of waste.
With this type of waste collection, it is sometimes unclear what will happen to the waste when collected. Most council bodies have made a commitment to recycling what they can, where they can, however, there is no cast-iron guarantee that your mattress won't be sent to landfill.
Your Local Recycling Centre
Most mattresses can be taken to your local recycling centre. In this process, the mattresses are reduced down to their component parts: metal springs, foam, wadding, fabric to be recycled and repurposed. For example, the metal springs in a mattress are melted down to be reused in future and polyester filling is reprocessed to be used in the fibre blending industry (such as carpet manufacturing) as a replacement for virgin materials.
Donation
We all know the slogan: reduce, reuse, recycle. Where possible, we recommend that you consider donating your mattress to charity if it is still in good condition. A number of charitable organisations, such as the British Heart Foundation, will happily collect your mattress free of charge and give it to someone in need. Alternatively, there are lots of Facebook groups and websites such as Freecycle which can help you find someone in your local area in need of a new mattress.
If you are planning to donate your mattress, ensure it is in good condition. Many charities will most likely want to see pictures of the mattress in advance to confirm it is clean, fit for use and still has its fire label.
How Not To Dispose Of A Mattress
Mattresses are bulky and cumbersome, which can make disposal tricky. With that comes the temptation to dispose of it quickly and with as least hassle as possible. However, it's important to be aware of the implications of doing so.
You should not dispose of a mattress by burning it or fly-tipping it. Setting fire to a mattress can be dangerous and is most certainly bad for the environment. Mattress fires can easily get out of control as they burn quickly. What's more, the fumes released could be harmful to you, those in close vicinity and the environment.
It also goes without saying that you shouldn't fly tip your old mattress either. This is illegal and can result in a hefty fine. What's more, the act of fly-tipping in itself is antisocial and harms the environment.
Get Rid Of Your Mattress With DP Skip Hire Ltd
If you're looking to get rid of a mattress, we can help! At DP Skip Hire in Stoke on Trent, we are the first choice in the region for waste disposal.
We are committed to offering our customers affordable waste disposal services that are driven by our zero waste to landfill strategy. From our skip hire to our tipping facility in Longton, we're here for all of your waste disposal needs and you can be sure that over 90% of the waste you bring to us is recycled or repurposed in line with current guidance.
To find out more, book a skip online with us today or contact our offices, which are open 7 days a week to answer all of your questions regarding waste disposal!