Prepare Your Garden For Summer With DP Skip Hire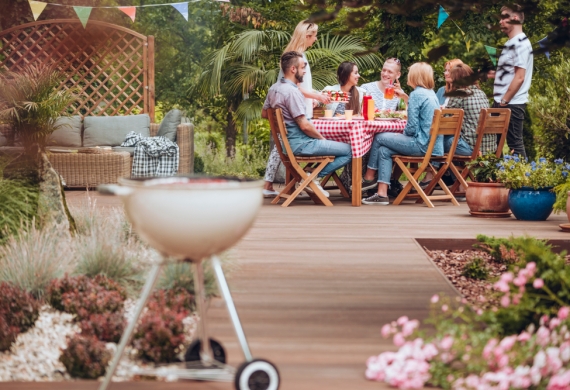 Prepare Your Garden For Summer With DP Skip Hire
With Spring well underway, most of us are looking forward to a hotter and brighter Summer where we may even be able to enjoy the company of others. However, is your garden ready for you to make the most of the weather? If not, you may be considering a renovation or a little bit of a makeover. If this is the case, it's likely that you'll be needing to dispose of any waste created. In order to help explain your skip hire options, we've put together the following guide.
Can I Use a Skip For Garden Waste?
If you've decided to get to work creating your dream garden, it's likely that a clearout is needed. Before you start the project, we always advise taking a look at our range of skips and deciding which skip size you're going to need. Without this forward planning, it's likely that you will either end up wasting money on a bigger skip than needed or having to hire two skips where you could have just got a bigger one.
Something that may influence your decision on skip size is the need to separate your materials. This is advised because some councils offer a home collection service for 'green waste'. Green waste tends to refer to any of the natural materials that come out of your garden such as soil, plants, tree branches etc. By separating 'green waste' from your 'general waste' such as garden furniture and concrete, you may be able to save yourself some money.
Which Skip Do I Need?
In terms of domestic garden projects like these, we tend to see most clients opt for either a few builder's bulk bags or one of our smaller skips. Our two yard and three yard skips are perfect for garden renovations, as they are capable of holding up to 35 and 45 plastic bags of waste respectively.
However, if you're working across a smaller project or looking to separate your waste out, hiring a builders bulk bag or two may help. Thanks to their strong, reliable and heavy nature, they're perfect for holding non-hazardous waste.
What Garden Waste Can I Dispose Of?
When it comes to renovating your garden, it's important to have a good understanding of what can and can't go into a skip. Otherwise, you may find yourself with a difficult job on your hands getting rid of something that you have already removed. When it comes to gardens, most waste tends to be natural and as a result, doesn't cause any complications. Common garden materials that can be put in a skip include, but are not limited to the following:
Wood
Concrete
Metal
Soil
Green Waste
This list alone should cover most of your plans. Old wooden garden furniture can be thrown out, concrete slabs can be repurposed and our team offers a scrap metal recycling service. As for green waste, once it's collected in one of our skips or bulk bags, you may be able to organise collection from your local authority. If not, our team will be happy to recycle it for you.
Book Your Skip Hire Online Today
If you're ready to get started on your new garden, DP Skip Hire can help. If you have already made a decision on the type of skip that you would like, you can book online today. However, if you have any questions regarding any of our skips or services, you can also contact us. Our friendly and experienced team will be happy to help in any way that they can. More information can be found online regarding our full range of services. Alternatively, if you have found this blog useful, you can browse our news section for other similar articles.
Here at DP Skip Hire, we have worked for over 25 years to provide affordable, reliable and professional skip hire across Staffordshire and Cheshire. Not only that, but you can also feel comfortable knowing that by choosing ourselves for waste disposal, you're also helping the environment. Thanks to our commitment to meeting our zero landfill targets, we are currently operating at a level where 90% of our waste is recycled or repurposed.