What Commercial Waste Solutions Do DP Skip Hire Offer?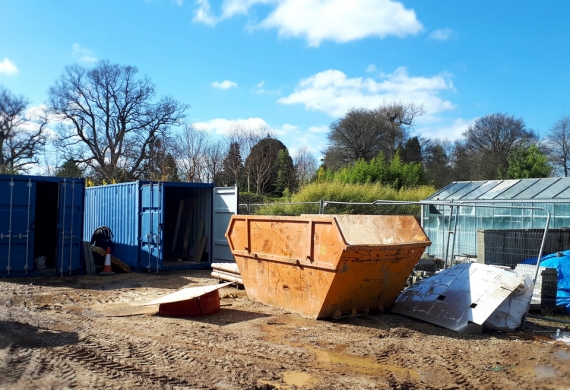 What Commercial Waste Solutions Do DP Skip Hire Offer?
Here at DP Skip Hire, we offer waste management solutions for clients working both domestically and commercially. Having gained over 25 years of experience delivering these solutions across Stoke-on-Trent and the wider Staffordshire region, our team and services have become well equipped to deal with anything that a clear out can throw at our clients. To explore these services in more depth, we've put together the following guide.
What Commercial Waste Services Do You Offer?
Here at DP Skip Hire, we have developed the following services in order to deal with any upcoming project both efficiently and effectively:
From assisting with office clearouts with our commercial skip hire to safe and efficient asbestos removal and disposal, each of these services can guarantee you reliability, affordability, versatility and efficiency.
1. 40 Yard RORO Skip Hire
Due to the large nature of most commercial clearouts, bigger skips are often necessary to deal with the amount of waste produced. Knowing this, we have invested in just the beast. Our 40 yard roll on roll off skip can be used for single and mixed waste streams, proving to be a versatile option for commercial and domestic projects. If you're looking to start a project that will produce a large amount of waste, our RORO skip is ideal.
2. Asbestos Disposal Service
If asbestos is found on your site, it's vital to alert a professional that can dispose of it safely and quickly. Once lauded as one of the most effective building materials in the construction industry, asbestos was heavily used in commercial and domestic projects before the year 2000. However, it was soon seen to be one of the most harmful, being the cause of serious health concerns amongst those exposed to it. Here at DP Skip Hire, our certified team is capable of disposing of your waste safely, in a way that doesn't expose anyone to toxic substances. We can also provide those on site with the required PPE/RPE and packaging, all of which meet regulatory standards.
3. Tipping Facility
If you're looking for a waste management solution for your commercial project, but you don't believe that it warrants any of our skips, you may be interested in our tipping facility. We can accommodate anything from a few bin bags to a van full of soil. Our prices start at just £10, so it's just as affordable as it is convenient. If you would like to take advantage of our facility, all you need to do is visit us in Longton, Stoke-on-Trent. We're open from 7am -5pm Monday-Friday for all of your waste disposal needs. Once your rubbish is here, we'll take care of the rest for you.
4. Scrap Metal Recycling
When working across demolition works or commercial projects, it's likely that you may come across a lot of scrap metal. One of the great things about scrap metal is that it's a valuable resource that can be used repeatedly, over and over again. As a result, financial incentives are offered to people like yourself who need it to be removed. By trusting a company like ourselves to recycle the material, not only are you getting rewarded financially, but you can also feel good morally knowing that it won't be taken to a landfill. Here at DP Skip Hire, we will provide you with a rebate at market value for your scrap metal and a service that can be tailored around your needs.
5. UPVC Recycling
In order to meet our zero waste to landfill policy, our team works hard to find solutions to recycling all waste materials. One of the resulting solutions has been our UPVC recycling service, where we can offer you a rebate at market value for UPVC window frames. UPVC can be recycled, but in a different way. It must be inspected and then prepared for processing which usually involves shredding the material into smaller pieces, removing non-UPVC materials (such as glass, rubber and steel), and grinding the purified UPVC into granules which can be used to create new UPVC products.
Why Should I Choose DP Skip Hire For Commercial Waste Management?
Here at DP Skip Hire, we're committed to offering the ultimate customer experience through efficient, affordable services that contribute to a healthier environment. Thanks to our commitment to a zero to landfill policy, we are now in a position where 90% of our waste is recycled or repurposed. Therefore, when using our services, you can feel confident that you're making a difference to the environment as well as your site.
In addition to our contribution to a healthier planet, we are also committed to providing our customers with the very best customer service. Therefore, all of our services can be tailored according to their needs and our customer service team will always be happy to help with any queries that you may have. With over 25 years of experience working across the commercial and domestic sectors, our team is well equipped to help provide the best solution to any waste management problem.
Book Online Today
If you're ready to work with us, you can get started as early as today. For skip hire, you can make a booking online today through our website. Alternatively, for our other services, you can get in touch with our team. They'll be able to discuss timings, dates and any other considerations for your booking and tailor the service to suit the constraints of your project. More information can be found on all of our skips across the website and if you have found this article helpful, you may also be interested in checking out the rest of our blog.