New Panorama Feature Highlights Britain's Fly Tipping Problem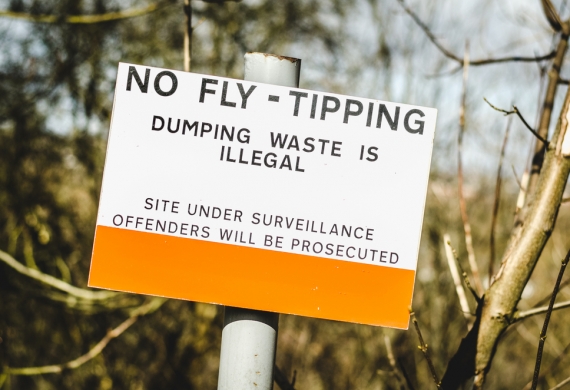 New Panorama Feature Highlights Britain's Fly Tipping Problem
On 24th February 2021, the BBC will air a new Panorama feature that addresses a national problem that is ruining towns and countrysides in Britain: fly-tipping. Specifically, the documentary will investigate why so few people are prosecuted for fly-tipping and look at ways we are fighting back against this environmentally destructive, unsightly crime.
In 2019/2020, local authorities in Britain dealt with almost 1 million fly-tipping incidents. A 2% increase from the previous year. These statistics alone show us that the war is not yet won when it comes to fly-tipping, and more must be done on an individual, local and national level to prevent it.
Fly-tipping And The Law
Fly-tipping is the illegal deposit of any waste onto land that does not have a license to accept it. You've probably seen fly-tipping in action if you've ever come across an abandoned mattress on the roadside.
Fly-tipping is a criminal offence. When waste isn't disposed of in the correct way it can:
Be expensive to remove
Pose a risk to public health
Harm the environment
Lead to further antisocial and criminal behaviour
Threaten local wildlife
Impede the flow of traffic
Cause infestations
Individuals and businesses found to commit the offence of fly-tipping can face a prison sentence of up to 5 years, an unlimited fine, seizure of vehicles, and disqualification from driving.
How To Report Fly-Tipping
If you witness a fly-tipping offence, reporting it will speed up the process of getting the waste removed and the crime investigated. To report a fly-tipping offence take a note of:
The date, time and location of the incident
What the waste looks like
Vehicle registration and description
Once you have this information, you should call your local council, Crime Stoppers or the Environment Agency to report the offence.
How To Stop Your Waste From Being Fly-Tipped
One of the points that the new Panorama feature addresses is that a third of fly-tipping offences are small van size, which suggests that they are being carried out by 'man with a van' operators offering cheap waste disposal services. This means that homeowners or business owners, most likely with the best intentions, are seeking out affordable waste disposal methods but being conned in the process.
As a registered waste carrier, we would urge anyone looking to get rid of rubbish to do their research. First of all, we recommend searching for registered waste carriers on the public register of waster carriers, brokers and dealers. This register will show you the tier registration for the company and what kind of services they are legally allowed to provide with their registration.
Responsible Waste Management Services
At DP Skip Hire, we are an authorised carrier of waste with a valid upper tier registration. This means that we are able to transport other people's waste (including construction and demolition waste). We also operate a Zero Waste To Landfill Strategy, which means we take great pride in ensuring all the waste we take from customers is disposed of responsibly, in line with the law.
When you choose us, you can be sure that none of your waste will be fly-tipped or disposed of illegally. Should you require it, we can also issue a Waste Transfer Note (WTN) which details the type of waste, the container used to remove it, the time, date and location of the waste transfer and our contact details.
We take our responsibility to our customers, the environment and the law very seriously. Should you have any questions about the waste you're looking to get rid of and what we can do for you, please contact us.