Will Skip Hire Damage My Driveway?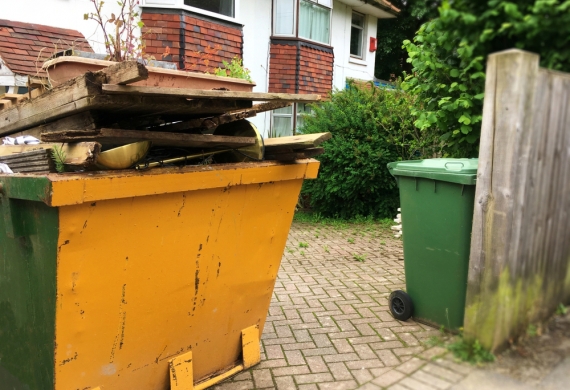 Will Skip Hire Damage My Driveway?
Here at DP Skip Hire, we understand the common concerns of our potential clients and work hard to ensure that they're put at ease as early on in the process as possible. One of the most common queries that we encounter is whether our skips can cause damage to driveways. Therefore, we'll be using our latest blog to explore this in more depth. .
Can a Skip Damage My Driveway?
When you hire a skip, there are essentially two places that you can place it down. You can either place it:
On the road with a permit
On private land such as your driveway or garden
The truth is that some softer surfaces such as soft tarmac and grass are going to be much more susceptible to the weight of the skip than more durable materials. Therefore if possible, these should be avoided.
However, if you have no option but to use them, this doesn't mean that they have to get damaged. Our team will work carefully when delivering and collecting your skip to ensure that your chosen surface doesn't suffer. Whether that's through using support beams underneath, or by just being extra diligent when placing it down, you can count on us to tailor our service accordingly.
Where Should I Put My Skip?
As previously mentioned, we tend to recommend that where possible, you should put your skip on the road. We completely understand that this doesn't necessarily work for everyone and in those cases, private land can be used. However, placing your skip on the road brings with it a whole host of benefits. Not only will you have no concerns over any damage to the surface, but you also wouldn't have to worry about sacrificing any of your parking space.
It can often seem daunting, feeling like you've got to meet the regulations of having a skip placed on the road. However, thanks to our team, you simply don't have to worry about that. Our experienced and friendly staff will apply for the required permit on your behalf and ensure that the skip follows all regulations set out by the local authority before leaving the skip in your possession. More information about the regulations and how we deal with them can be found in our 'Do You Need a Permit to Hire a Skip?' guide.
Why Choose DP Skip Hire?
Our team puts our clients first in everything that we do and work hard to offer services tailored to your needs. Whether you need skip hire, or any of our other services, we can guarantee an affordable, reliable and professional service. In addition to this, you can also feel good knowing that by using DP Skip Hire, you're also contributing to a healthier environment. The team here are firm believers in the fact that we only get one planet and it's our responsibility to protect it. That's why we have started to drive towards a zero landfill policy. Our work towards this has meant that currently, 90% of our waste is recycled and repurposed. However, we are continuously striving to find new ways to turn that into 100%.
With over 25 years of experience supplying the highest quality skip hire experience across Stoke-on-Trent and the wider Staffordshire area, DP Skip Hire is a company you can trust. Thanks to this experience, our team is well equipped to help with most projects. They're also committed to building relationships with our customers and providing them with the guidance and expert advice that they may need.
Book Your Skip Hire Online Today
If you're interested in making a booking, you can do so today using our online booking system. Alternatively, if you have any additional questions, please contact us. Our friendly and experienced team will be happy to help you with any queries you may have. For more information on any of our skip hire or other services, you can browse through our website. Finally, if you have found this article to be helpful, you may be interested in checking out the rest of our blog.