How Much Does It Cost To Hire A Skip?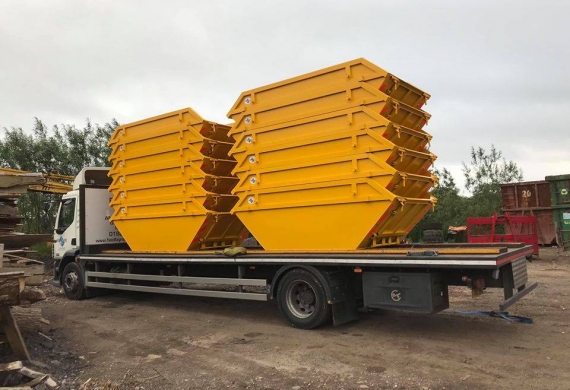 How Much Does It Cost To Hire A Skip?
Skip hire is a quick, efficient and cost-effective way to get rid of waste. As well as being large enough to store and take away large amounts of rubbish, when you hire a skip there's no need to worry about ferrying lots of black bin liners to the tip. In fact, apart from loading it up with your unwanted items, hiring a skip is a totally managed process that will save you precious time and money along the way.
But how much does it cost to hire a skip?
In this blog post, we're going to take a look at the different factors that influence the cost of your skips. We'll also give you an inside look at how much skip hire in Staffordshire and surrounding areas costs from DP Skip Hire.
Skip Hire Prices
As mentioned, there are a number of factors which influence the cost of a skip. Skip size, hire duration, location and where you will store the skip while in use will have an impact on pricing. In the next few paragraphs, we'll look at each influencing factor in more depth, so be sure to read on!
Skip Size & Hire Cost
If you've browsed our skips for hire in Stoke on Trent and Staffordshire, you'll see we offer a range of skip sizes to suit all kinds of needs. Our current range of skips for hire starts with the humble 2-yard mini skip and goes all the way up to the huge 40 yard RoRo (Roll On, Roll Off) skip.
The skip size you need will depend on the amount of waste you anticipate you'll generate through your domestic or commercial project. How much it will cost to hire a skip will depend, firstly, on the size you require.
Here's a quick rundown of our current skip sizes:
Generally, the smaller a skip is, the cheaper it will be. However, it is really important to think carefully about the size of skip you need. This is because, if you hire a skip that is too small for your project, you'll end up with waste that still needs disposing of, which will result in extra trips to the tip or having to hire a second skip. This mistake could end up being more expensive than buying a suitable skip for your project, so we'd advise giving it some thought. Similarly, if you hire a skip that is too big for your needs, you'll end up paying more than you need to!
If you'd like some guidance on choosing the right skip for your needs, check out our size guide video to help you out. If you're still not sure, then give us a call. Our team would be happy to help!
Council Permits & Skip Hire Costs
If you are planning to place a skip on your own property (such as your driveway) or privately owned land, then you don't need to get a council permit. However, if you will be putting your skip on the road or any other piece of council land, then you will most likely need to secure a council permit. These permits are issued by your local council, and to obtain one you must pay a fee. The cost of a council permit for a skip varies depending on the local council, ranging anywhere from £60 to £150.
When you hire a skip in Stoke on Trent, Staffordshire, Cheshire or Shropshire from us, it is our responsibility to get the permit on your behalf. All you need to do is tell us which local council your area falls under and we will organise the rest.
Location & Skip Hire Costs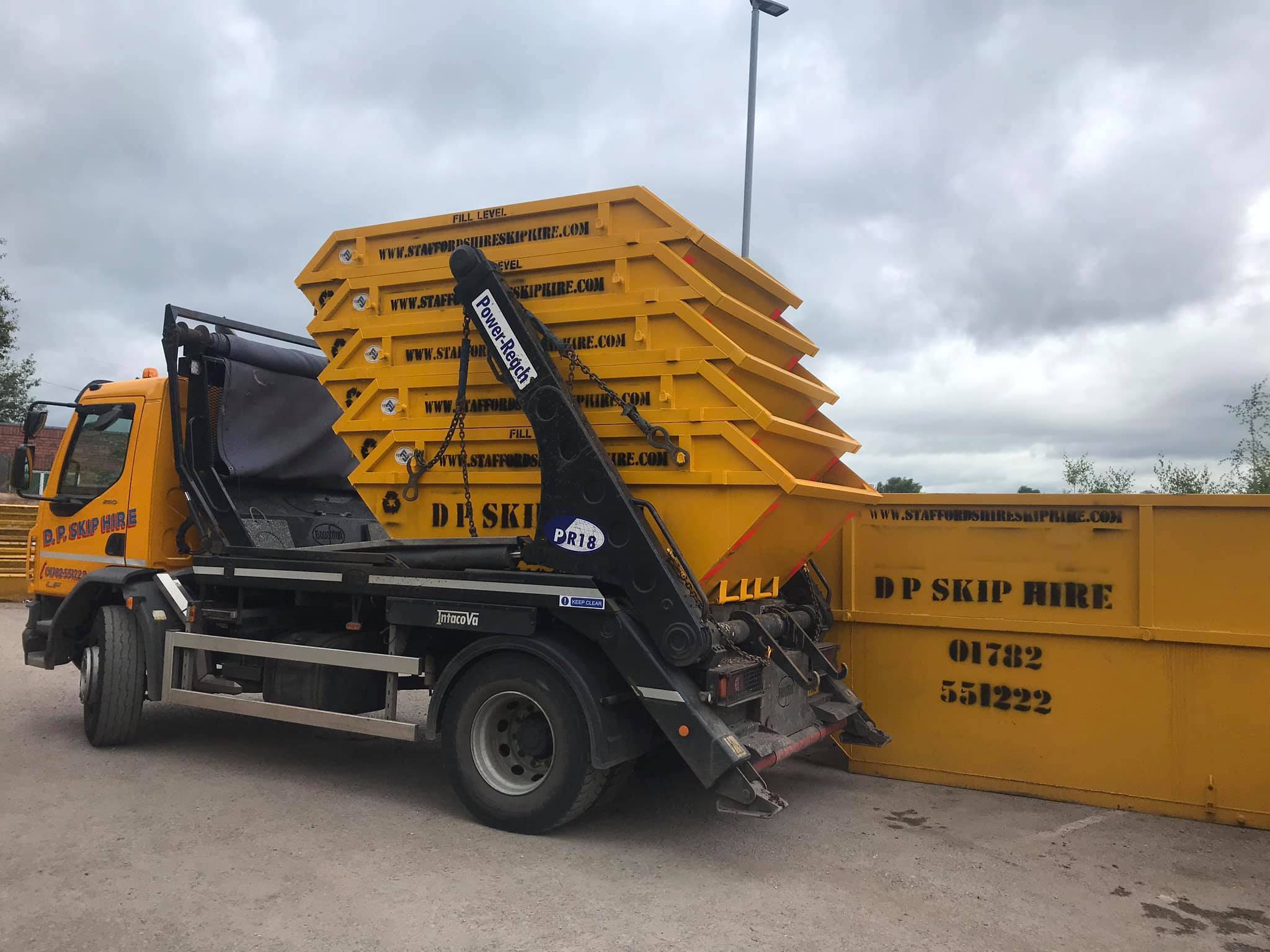 Where you are in the country will also affect how much a skip will cost. As you might imagine, prices are higher in some locations than others. For example, skip hire in London may cost around £200 for a midi skip. However, for midi skip hire in Stoke on Trent you may only be looking at £140 for the same size skip.
Hire Duration & Skip Hire Costs
For some companies, how long you hire the skip for will have an effect on the final costs. Here at DP Skip Hire, when you book a skip online in Stoke on Trent, Staffordshire and Cheshire, we will present you with an all-in-one cost which factors in skip hire permits and duration. For hire periods longer than 2 weeks, we recommend that you call us to get the most competitive hire rate.
If you're looking to hire a skip for more than 2 weeks, you may also have to factor another skip hire permit from your local council into the final price. This is because may are only valid for 14-30 days from issue.
Extra Costs To Consider
When you hire a skip from us on our online booking system, the price you see is the price you will pay including VAT. That being said, there are restrictions on what can be put into a skip and how much can be loaded into a skip. It is important to be aware of these, as failure to adhere to these restrictions may result in further charges.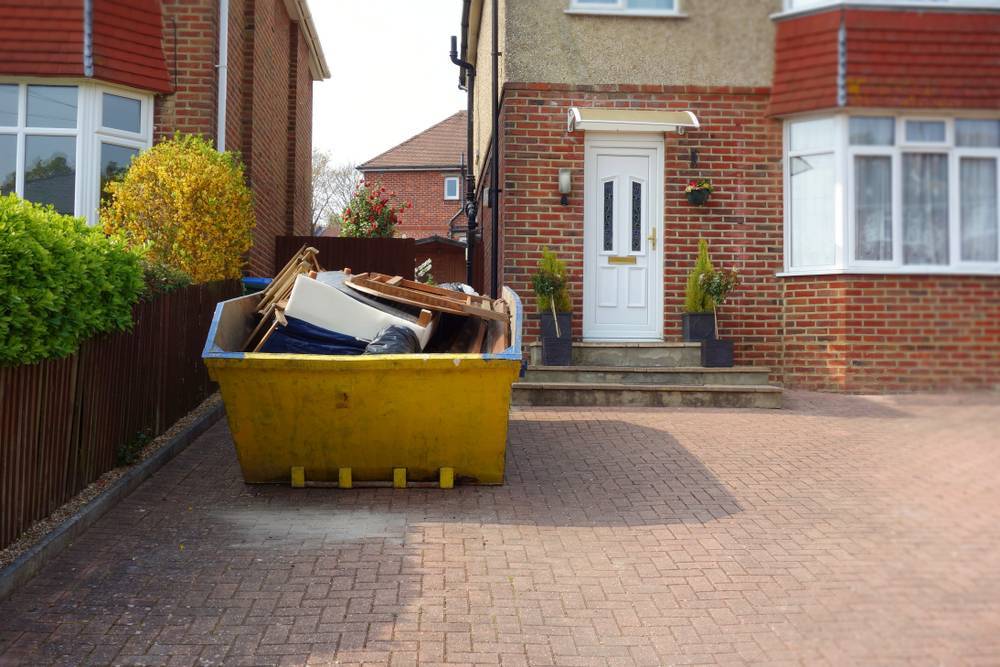 Weight Limits
When you receive your skip you will see that it has a line inside it which dictates how much you can fill it up. It is important not to go over this level and we also advise that you load the skip with a mix of heavy waste and lighter waste to ensure the limit is not exceeded.
If you have any specific queries about load and weight limits when it comes to skip hire in Stoke on Trent and surrounding areas, please contact us. Our team would be happy to advise on your specific requirements.
Restricted Items
There are some types of waste that cannot be loaded into a skip. This is because certain items need to be disposed of in specialist ways to avoid harmful materials finding their way into the environment. This includes fridges, televisions and microwaves, plasterboard and hazardous waste.
To check the items you would like to dispose of are permitted, we recommend taking a look at our online guide: What Can You Put In A Skip?
Our blog also contains lots of information on how to dispose of certain items safely including fridges and batteries.
Book A Skip Online With DP Skip Hire Today
If you would like to hire a skip in Staffordshire or Cheshire, you can do so through our online booking form. We currently cover a wide range of locations in Stafford, Newcastle Under Lyme. Crewe, Stoke on Trent and Leek. We would be happy to arrange skip hire for you to support with your commercial or domestic project.
If you have any questions about skip hire in these areas, please contact us and speak to our team. The DP Skip Hire offices operate 7 days a week for your convenience, and we're only a phone call away.