Our Guide To Skip Hire Safety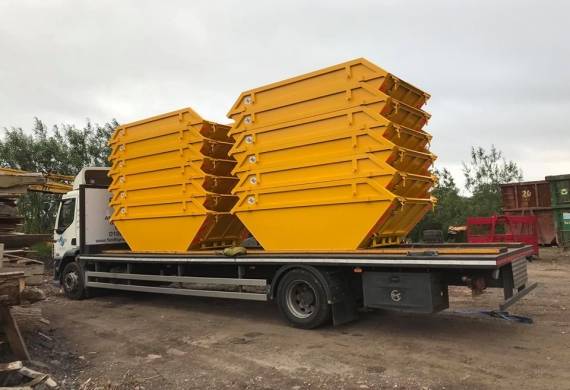 Our Guide To Skip Hire Safety
Skip hire is, by and large, a very safe and effective way to dispose of household or commercial waste. When you hire a skip from us, our team will deliver the skip directly to your specified location and, when you're done, we'll come and pick it up for you too. So there's no heavy lifting on your part and the risk of injury when using a skip is minimal.
However, health and safety is always a priority for us. Our team is committed to keeping everyone safe, which is why we have put together this comprehensive guide to skip hire safety.
Skip Hire Safety Guide
There are a few things to consider when it comes to skip hire safety. Many of these, skip hire companies like ours will take care of for you. But there are also some health and safety guidelines to take into consideration as you prepare to receive and use your skip too.
Before Delivery Of Your Skip
Permits & Placement
Firstly, if your skip is to be placed on the road outside your home, a permit or licence will need to be purchased from the local council. Skip permits are required by law for any skip that will be situated on public land. Once a skip permit has been applied for and issued, the skip can be delivered to the specified area.
Further to this, if the skip is to be placed in the road then certain measures need to be taken in order to protect road users and pedestrians. When a skip is on a road the following conditions should be met:
The end of the skip that faces traffic must be yellow;
At least 4 traffic cones should guard that skip;
At night, electric lamps must be attached to each corner of the skip and between each cone
When you hire a skip from DP Skip Hire, we will take care of these elements for you. When you book online with us, simply tell us which council you need a permit from and we will administer the application process. Similarly, when we deliver your skip, we will ensure that all of the above regulations are met. All we ask of you, the customer, is that these remain in place throughout the duration of hire to ensure everyone in the vicinity of the skip remains safe.
Preparing The Area
Prior to the arrival of your skip it is wise to prepare the area where you want it to go. Make sure the area is clear and flat, with no potential obstructions. Similarly, ensure that the placement of the skip is easily accessible for you and anyone else who will be using it.
On Delivery Of Your Skip
When the driver arrives with your skip, tell them where you would like your skip to be positioned. Please make sure that, when the skip is being unloaded, pets and children are kept inside and out of the way to avoid any accidents.
When the skip has been unloaded in the specified area, this is where it will need to stay for the duration. Skips are very heavy and difficult to move, so we ask that you never try to move a skip yourself, or even with the help of others. Doing so could cause injury to you, other people and even the surrounding area.
If your skip is to be placed on a public highway, be sure not to tamper with any cones or lighting that are placed on or around the skip. Similarly, please be vigilant throughout hire to ensure the safety measures are not compromised.
Using Your Skip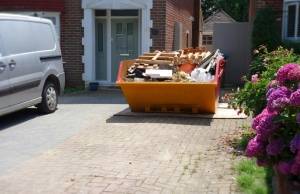 Loading The Skip
To efficiently load your skip, start with flat items before adding in any other bulky items. Then, add smaller items into the gaps. This will help you to make the most of the space and ensure nothing falls out. If you need to move very heavy items, be sure to lift them safely either through the use of specialist equipment or by enlisting the help of another person. For garden waste, like soil, or rubble, you may find it better to hire a drop door skip where waste can be walked in on a wheelbarrow for ease of loading.
It's important to remember that you mustn't overload your skip. Take note of the fill level indicated and be sure not to exceed this. We cannot remove a skip that has been overloaded, and in some cases we may have to charge extra because of this.
Types Of Waste
Certain types of waste, such as hazardous materials, cannot be disposed of in a skip. This includes items such as fridges, televisions, food waste, asbestos and batteries. Take extra care to be sure that everything in your skip falls into our approved list of items to ensure that your waste is disposed of correctly and safely.
On Collection Of Your Skip
Finally, when you have finished with your skip and it is due for collection, ensure that the area around it is clear. Again, be sure that the skip is not loaded above the fill line. And, when the driver arrives to collect your skip keep pets and children a safe distance away to avoid any accidents.
Hire A Skip Online Today
At DP Skip Hire, we make hiring a skip easy and safe for both domestic and commercial customers. If you would like to hire a skip, you can use our handy online booking form to do so. Simply tell us what size of skip you require, when you would like it to be delivered and collected, the type of waste you need to dispose of, and we'll take care of all the rest. We are well placed to offer skip hire services to customers in Stoke on Trent, Hanley, Longton, Newcastle Under Lyme, Leek & Crewe.
Should you have any questions about skip hire, such as where a skip can be placed on your property, what you can put in a skip or anything else, please do not hesitate to contact us. We operate 7 days a week for your convenience and our friendly team would be happy to help.