4 Things To Consider Before Hiring A Skip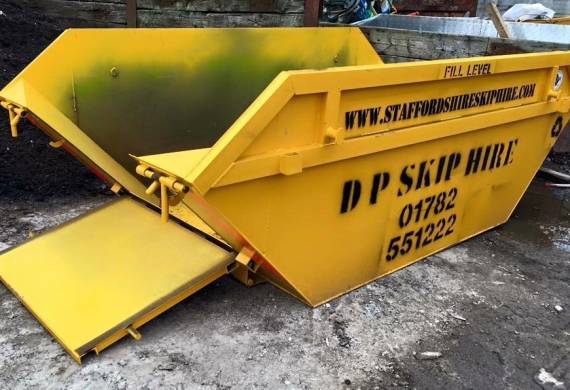 4 Things To Consider Before Hiring A Skip
Here at DP Skip Hire, we make hiring a skip for your next project a breeze. Not only do we operate 7 days a week in order to provide the flexibility you need, we also offer you the option to book your skip online, making the whole process streamlined and easy.
Things To Consider Before Hiring A Skip
If you've never hired a skip before, you'll probably have questions. You might be unsure as to how the process works, what you can and can't put in a skip, or even what permits you need to have one. In this blog post, we'll give you a rundown of the 4 things you need to consider before hiring a skip, whether it's for commercial or domestic projects.
What size skip do you need?
Our skips come in all shapes and sizes, ranging from mini skips through to large 40 yard RoRo skips. It's important to carefully consider what size skip you need as choosing the wrong one can be costly and/or inconvenient.
If you hire a skip that is too small, you could end up spending time running back and forth to the tip to get rid of the excess. However, if you hire a skip that is too large you'll have spent more than you need to – which isn't ideal for anyone!
To help you decide, here at the different capacities of each of skips available for hire:
2 Yard Mini Skip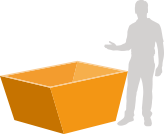 The 2 yard mini skip is the smallest we offer. It takes up very little space and offers a central location for rubbish to be stored. For these reasons, it's a popular skip for domestic projects.
Capacity: Approx. 25-35 filled black plastic bags
3 Yard Mini Skip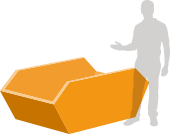 Compact enough to sit on your driveway, or in your garden, the 3 yard mini skip is great for DIY or landscaping projects.
Capacity: Approx. 35-45 filled black plastic bags
4 Yard Midi Skip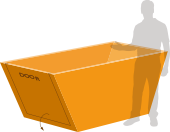 Our 4 yard midi skip features a drop door, which makes adding waste safe and easy. There's no need to lift large objects up and over with these skips, instead they can be pushed straight in or wheeled in on a wheelbarrow.
Capacity: Approx. 30 – 40 filled black plastic bags
8 Yard Builder's Skip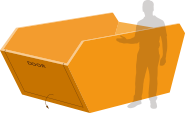 The 8 yard builder's skip is perfect for larger home renovation or DIY projects. Again, the drop down door offers walk-in wheelbarrow access, which makes it ideal for disposing of materials such as soil and building waste.
Capacity: Approx. 80 filled black plastic bags
16 Yard Skip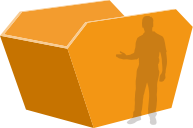 A popular maxi skip, this is most likely the largest skip required for domestic use. While this type of skip cannot be used for soil or hardcore, it is great for disposing of large, light bulky objects.
Capacity: Approx. 170 bags
The above shows a selection of skips suitable for domestic use. We also have larger skips and enclosed options that are most commonly used for commercial and construction purposes, these can be explored further on our Skip Hire page.
The capacities listed above are approximations. How much a skip will take depends entirely on the waste that is being disposed of and how it is placed within it. That being said, the information above should be sufficient to help you understand which size skip is best suited for your requirements.
Do You Need A Skip Permit?
Once you've chosen the size of your skip, have a look at where it might need to be put while in use. You need a permit if you plan to place your skip on the road outside your house, or on public land.
If you plan for the skip to be placed on your driveway, or in your garden, then no permit is necessary, as this counts as private land.
There is a charge for skip permits, which are procured from the local council. Costs for these are as follows:
Stoke on Trent Council – £60
Staffordshire Council – £60
Cheshire Council – £100
Shropshire Council – £150
Each council also requires a certain amount of notice to organise a skip permit. These are:
Stoke on Trent Council – 3 working days
Staffordshire Council – 5 working days
Cheshire Council – 5 working days
Shropshire Council – 10 working days
When you hire a skip with us, we will make all the arrangements for a permit and liaise with the council on your behalf. When you book your skip online, please let us know which council the location of where you would like the skip falls under and we will make all the necessary arrangements.
How Long Do You Need A Skip For?
When you book a skip online with us, we will ask you for both a delivery date and collection date. Therefore, prior to making a booking it's important to consider how long you need a skip for. In some cases this could be one or two days or, for larger projects, upwards of a week.
We are very flexible and accommodating when it comes to skip hire duration. Any of our skips can be hired through our online booking form for up to 14 days. Should you need to hire a skip for longer than 2 weeks, please contact us and speak to our office staff.
What Sort Of Waste Do You Have?
Finally, the last thing to consider is the type of waste you have. Some household items aren't suitable to be disposed of in a skip, such as fridges or batteries. Similarly, hazardous waste such as asbestos must be removed and disposed of safely and cannot be put in a skip either. If you are looking to dispose of plasterboard or carpets, a surcharge may apply for their disposal.
To get a better understanding of waste types that are suitable for skips, view our what can you put in a skip page.
The type of waste you are looking to dispose of will also have an influence of the size of the skip you should hire. Some waste types take up far more space, meaning your skip will fill up quicker.
Book Skip Hire Online
When you've taken all these considerations into account, you should have an idea of
If your waste is suitable for a skip;
The size of skip you need;
If you need a permit for a skip;
How long you need to hire a skip for
When you know all these things, you'll be ready to hire your skip!
Here at DP Skip Hire, we make hiring a skip in Stoke on Trent (including Hanley & Longton), Newcastle Under Lyme, Leek, Crewe and Stafford easy as 1, 2, 3. Just head over to our online booking form, input all the relevant information, and make your payment online via Paypal or with a credit/debit card. We'll take care of all the rest.
That being said, if you are still unsure about which type of skip is right for you or you would like to hire a skip for longer than 14 days, please contact us directly. We operate 7 days a week and our staff are on hand to answer any questions you may have.